"A wall of windows with a view that will take your breath away"
It may sound like a description pulled from a high-end real estate magazine or fancy Airbnb ad, but that's exactly the scene awaiting those who set out to explore one of the country's most awe-inspiring, backcountry shelters at Hidden Lake.
This iconic setting is located on the border of North Cascades National Park in Washington and requires a scenic hike through dense forest, wildflower-filled alpine meadows, and rocky summits with impressive vistas in, almost, every direction.
The historic fire tower remains atop Hidden Lakes Peak may garner most of the spotlight for this hike, but the journey to reach it is just as impressive! Continue reading for more details.
Overview
The Hidden Lake Trail, along with the lookout, is located, entirely, within Mt. Baker-Snoqualmie National Forest. Hidden Lake, however, and anything past the final ridge saddle is located within North Cascades National Park. It is often considered one of the best hikes in Washington state.
The trail to Hidden Lake is famous for its diversity and scenic vistas which provide uninhibited views of the Cascade mountain range, extending from British Columbia through Washington and Oregon into northern California. The namesake lake on this hike is found near the summit, where its crystal, blue waters seemingly disappear into an abyss, backdropped by some of the more notable peaks within the region.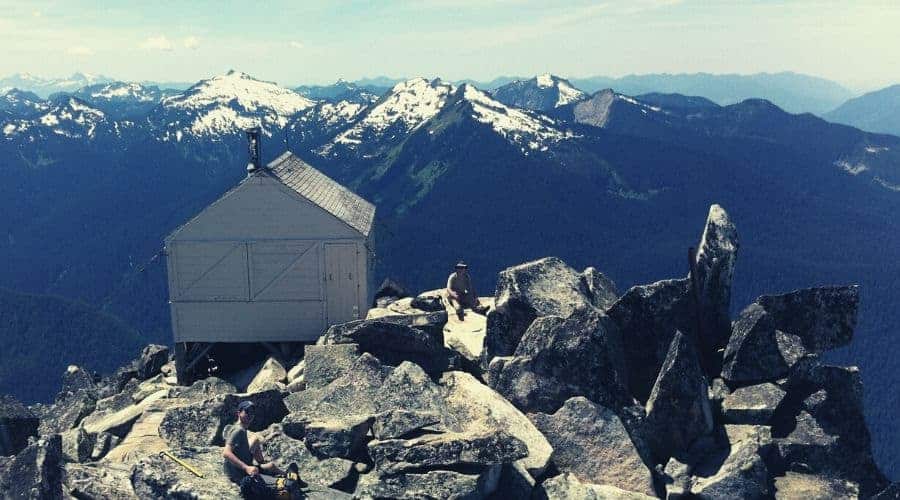 History
While the hike itself is a worthy feature, it's the lookout that adds a unique historical element to this terrain (and some amazing photo opportunities). It gives visitors a glimpse into the life of a forest service fire tower, a popular method of forest protection used in the Cascades many years ago.
The lookout was originally built in 1932, however, it was decommissioned from Forest Service use in 1953. For much of the next 25 years, it was utilized by the Skagit Alpine Club before coming under the care of one of the club's former members, Fred Darvill. Dr. Darvill was determined to preserve the lookout for historical significance and the enjoyment of future hikers.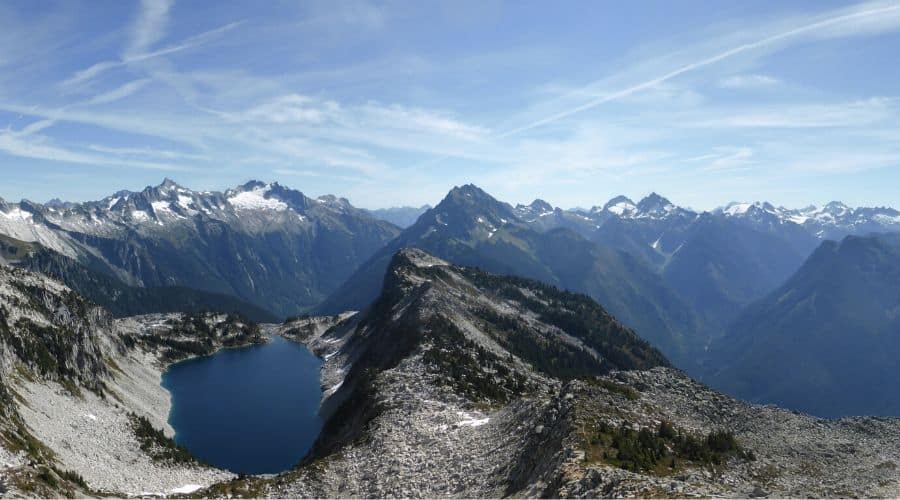 The allure of a place that contains, both, a stunning visual and a historical remnant was confirmed when the lookout was placed on the National Register of Historic Places in 1987.
Type of Trail
Hikers can choose to reach the lookout on a strenuous out-and-back day hike or choose to spend a night in the lookout shelter on an overnight backpacking trip. Here are the main features of the trail:
4.5 miles to the lookout (9 miles round trip)
2,900 feet of elevation gain
Trail designated for hiking only
Pets (controlled and on a leash) are allowed on the trail and at the lookout but NOT within the national park boundary
Sections of snow likely even in summer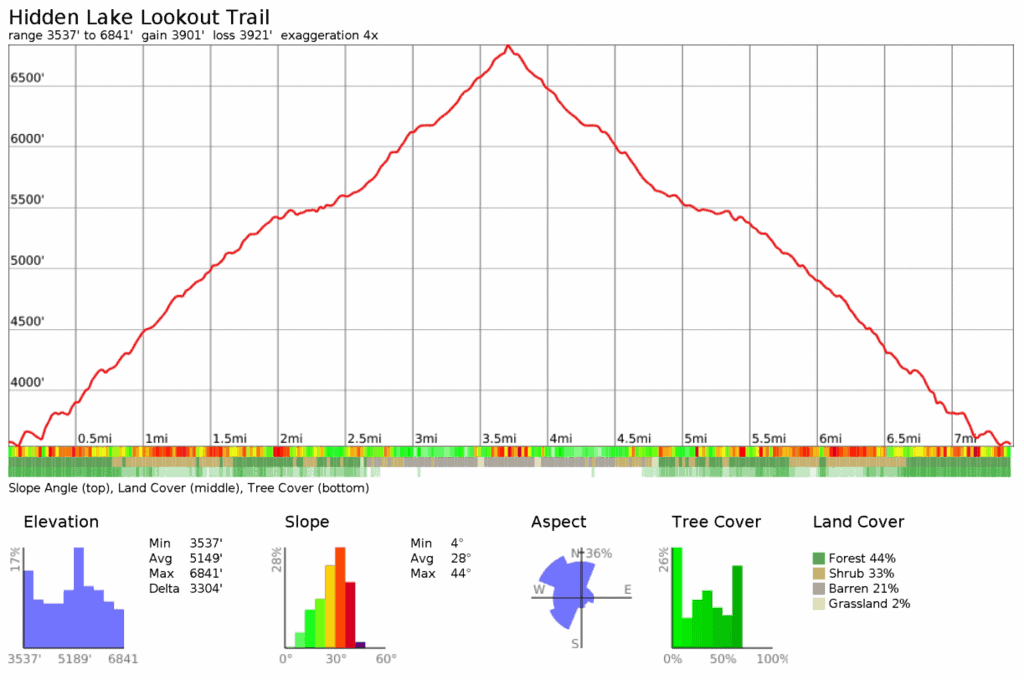 Planning Your Hike
Best time to hike Hidden Lake Lookout
It is true that people make their way to the lookout throughout the year, although, only hikes taking place in late summer or early fall are suitable for those who don't have specialized equipment or mountaineering skills.
Early summer hikes to can require route-finding skills through sections of snow or even an ice ax to successfully reach the summit lookout. The sweet spot for pleasant temperatures and minimal snow coverage on the trail, most years, is early August through mid-September.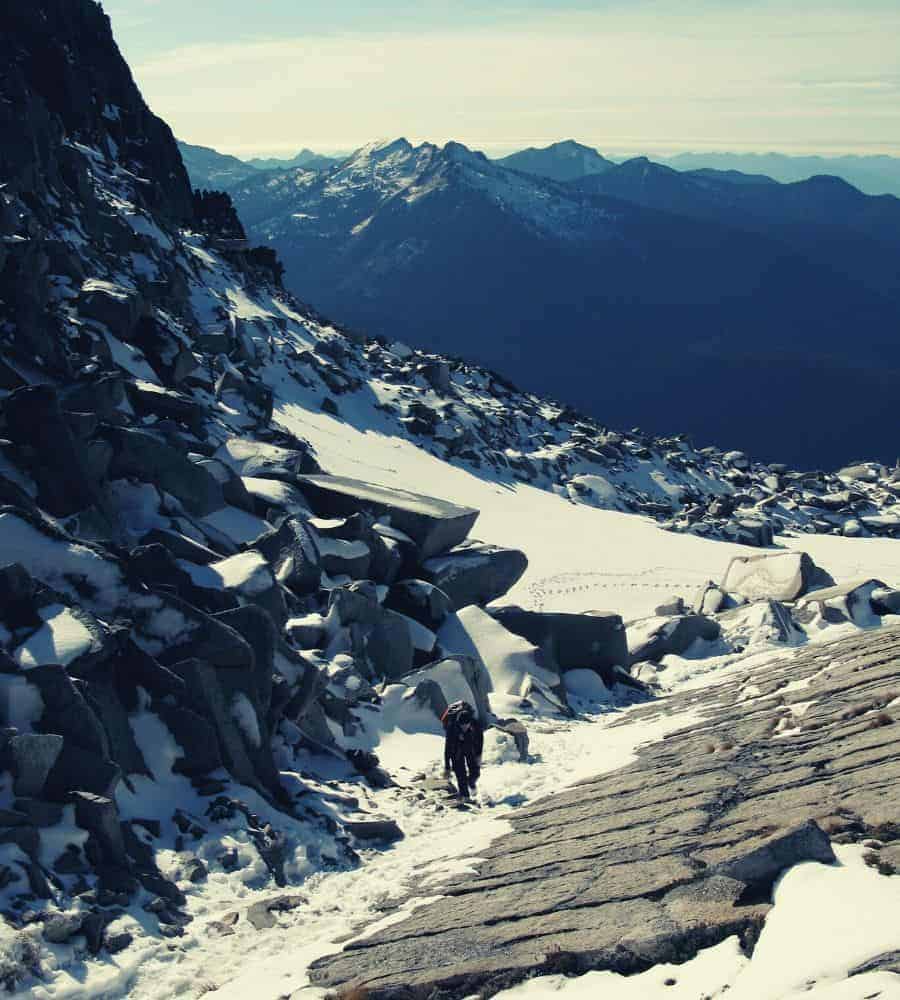 Permits
There are no special permits required for day hikers. The lookout itself, which contains a two-person mattress, is a first-come, first-serve shelter that, also, requires no permit for overnight stays, since it lies outside of national park boundaries.
Permit tip for overnight stays near the lookout: If you arrive at the fire tower and discover it is already taken, be prepared (with a tent and other gear) to descend, via a steep boulder scramble, to the only other suitable campsite locations between the saddle and the lake. Be aware that this will now be within Cascades National Park boundaries and, therefore, require a permit. That is why we recommend all hikers who plan to spend a night at the lookout, even though it is not required if they are successful, to obtain an NPS permit.
Directions to the Trailhead
Access to the Hidden Lake Trail begins from the small town of Marblemount, which visitors can navigate to via state route 20. Cross the Skagit River for the start of 10.2 miles along Cascade River Rd. Turn left onto National Forest Rd # 1540, where you will soon be following Sibley Creek for 4.5 miles to the small parking lot for the Hidden Lake Trail.
Trail Description
Starting from the small lot, the trail traverses through, rather, dense forest for the first mile, before crossing Sibley Creek. Enjoy wildflower-filled meadows and ever-increasing views throughout a series of switchbacks, gaining elevation, before crossing the creek one last time (good spot for water refill before higher elevations).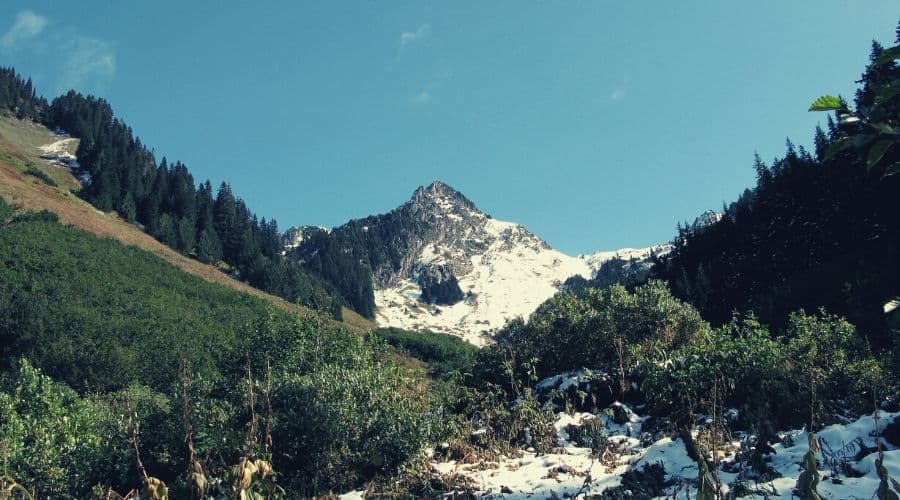 Be on the lookout for eagles, hawks, marmots, and numerous birds who favor the headwaters of the creek within the subalpine environment. This is, also, a prime viewing window for locating Mount Baker to the west, an active, glaciated volcano that claims the designation as the third highest point in the state of Washington (impressive when you consider the number of surrounding peaks).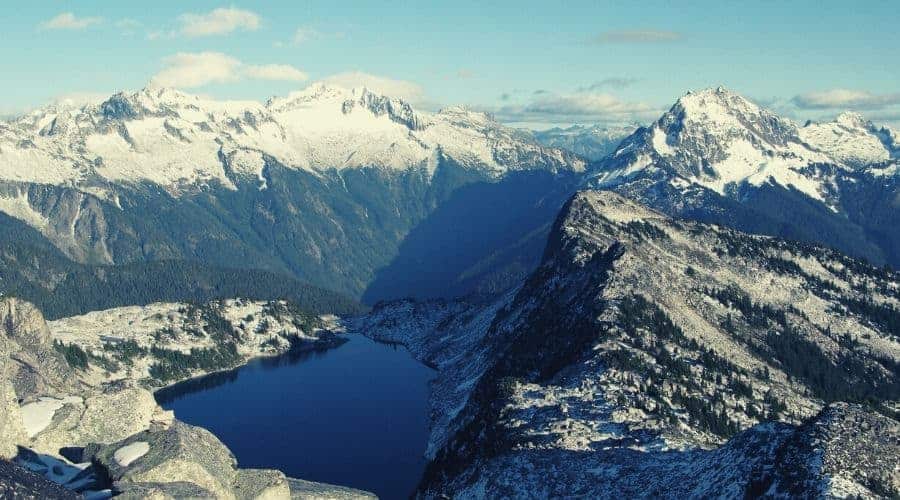 Enjoy rocky hillsides and open meadows as you make the push upwards towards the obvious pass of the Hidden Lake Peaks ridgeline. This notch, or saddle, provides hikers with their first views of Hidden Lake. Be sure to take a moment and appreciate the spectacular scene in front of you. The namesake lake, whose opposite shores create the illusion of an infinity pool falling into nothingness, will be the center of attention, with a crowd of impressive peaks (Forbidden, Boston, Sahale, Johannesburg) watching closely in the distance.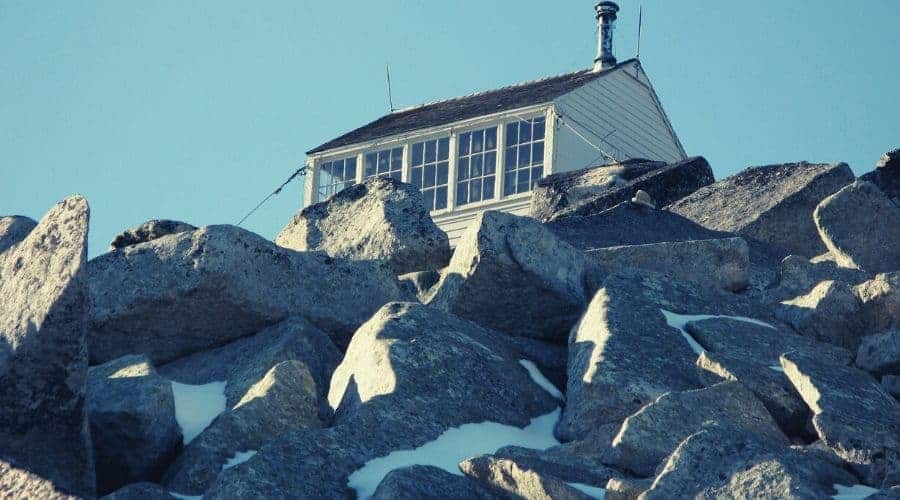 To reach the lookout, which you can clearly see from here on, continue for a half-mile up the narrow, rocky terrain. This section is the most likely to contain a solid snowpack if you are hiking in early summer. Remember to keep the fire tower remains in respectable condition, as lots of work has been done through the years in hopes of maintaining its historical, scenic allure.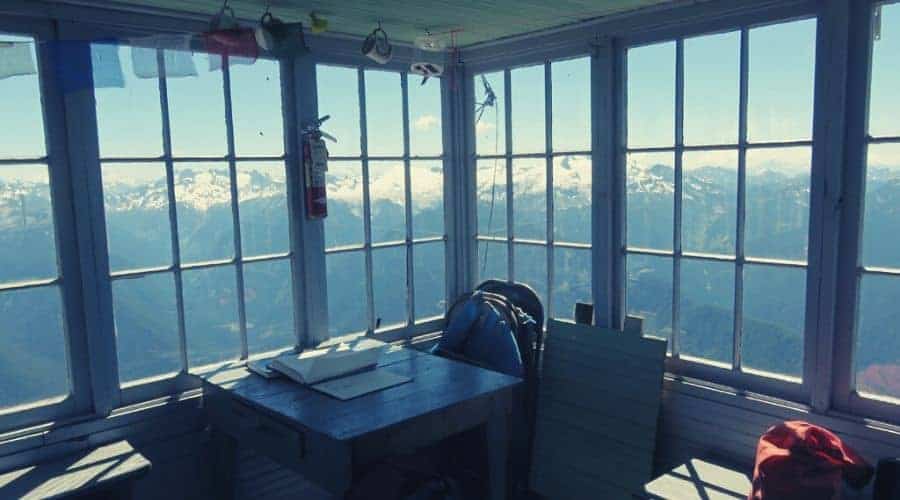 Suggested Gear List
We've found that the gear required for a safe and enjoyable hike to the lookout will vary considerably based on the season. Those who choose to explore this trail anytime from October through June will need to carry additional equipment and should be confident in basic mountaineering skills, route finding, and traveling over windswept snow. Remember, regardless of the weather or time of year, there are certain essentials that you should always have with you. Below is a sample checklist of gear we might bring for a standard day hike to the lookout during the summer months.
Gear
Daypack
Map & compass
Headlamp (yes, even if we plan to be done before dark)
Emergency bivy
UV water filter for water treatment
Camera
Folding sheath knife
*Firestarter materials
*Please note that these are for emergency use only. Fires are not permitted within North Cascades National Park
Clothing
Lightweight wind shell – great for breaks or at higher elevations (we love the Patagonia Houdini which is light & packable)
Hiking pants – nylon and/or spandex are best
Lightweight trail runners or hiking shoes (we also pack microspikes if we expect snow)
Merino wool base layer and/or comfortable top – deep chest zipper adds to ventilation options & versatility
​​Food and Water
Several 200-400 calorie snacks to eat throughout the day
One hard-sided 1L Nalgene
One collapsible 1L bottle
Additional Considerations
If melting snow for water consumption, make sure to pack a capable stove
Make sure to apply sunscreen before your hike – approximately 7 of the 9 miles are without shade
If you are planning on overnighting then replace the bivvy with a tent, and add your sleeping system plus more food and water.
Good to Know & Additional Info
This is an exceptional place to take a break or capture some memorable photos, but it is, also, an ideal vantage from which to practice your map and compass reading skills. Imagining that you are a National Forest Service ranger, stationed atop the fire tower in the mid-1930s, see if you can identify the following Cascade mountain peaks:
Boston Peak
Sahale Mountain
Johannesburg Mountain
Eldorado Peak
Mount Baker
Mount Forbidden
Triad Peak
Torment Mountain
Klawatti Peak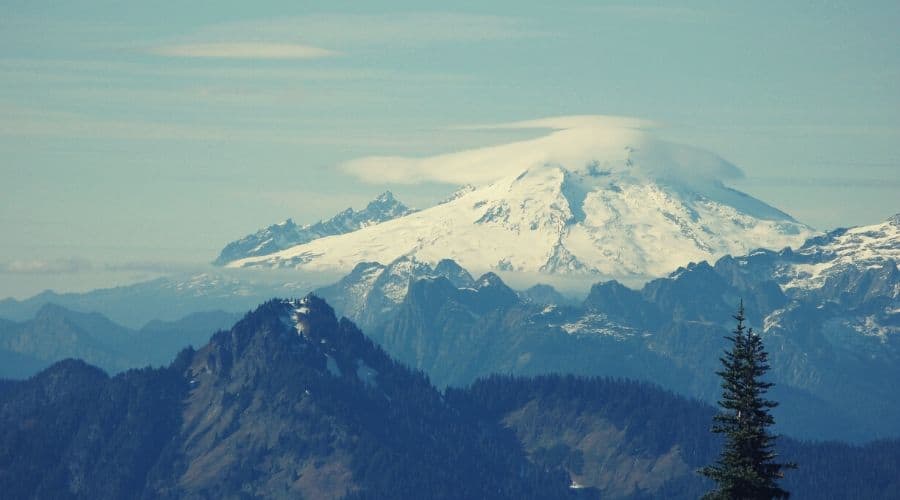 Stargazing
On a clear, overnight stay at the lookout, consider arranging your sleeping pads on the granite slabs surrounding the tower for a once-in-a-lifetime stargazing opportunity. Do your best to spot notable constellations or practice your astrophotography skills!
Winter Hike
Experienced hikers, snowshoers, and mountaineers should consider a wintry exploration to Hidden Lake. What is a popular hike in summer becomes an isolating, intimidating, powerful landscape that requires challenging navigation solutions – a perfect recipe for serious adventurers!
Note: The access road is gated throughout the winter months, adding approximately 2-4 miles, each way, for prospective hikers.
Dispersed camping options
Once you reach the saddle, you are at the border of North Cascades National Park. Any camping that takes place between here and the lake will require a backcountry permit. There are numerous, dispersed camping options, however, on the backside of the ridgeline along the trail inside of the national forest. Be sure to look for established sites that impose the least impact and always practice Leave No Trace.
Helpful Resources