From rolling hills through Douglas Firs, to rugged alpine ridges and massive volcanic peaks, Oregon has it all.
Oregon hiking is so diverse, and accessible all year. It's no wonder why everyone loves hiking in the Pacific Northwest.
More interested in coastal hikes with views of the Pacific Ocean crashing into jagged rocks? Head to the coast, we've got you covered.
We rounded up 19 of our favorite Beaver State hiking trails for you to plan your next outing. From family-friendly hikes to challenging multi-day backpacking adventures, you'll find it all in this list of the best hikes in Oregon.
Want to earn some extra credit? Find it hiking the Pacific Crest Trail in Oregon
Many of the best hikes on this list use parts of the Pacific Crest Trail. The PCT traverses 2,650 miles and stretches across the U.S. from the Mexican to Canadian border. It travels across California, Oregon, and Washington.
Once you've found your hiking legs, you might want to consider spending a week or two hiking a section of this famed National Scenic Trail in Oregon. And once you've hiked across Oregon, you can keep hiking into California or Washington.
But we're getting ahead of ourselves here, back to the best hikes in Oregon.
Oregon Hiking Trails: Our Top 19 Picks
Oregon Hikes Near Portland
1. Mount Hood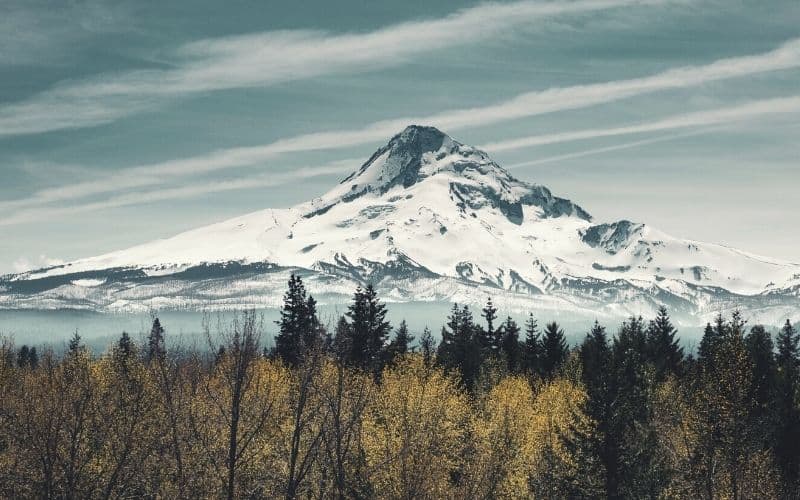 Distance: 6.4 miles
Difficulty: Challenging (requires mountaineering experience and/or a guide)
Elevation: 5,249 ft
Type: Out-and-back
At 11,240 feet, Mt. Hood is the tallest mountain in Oregon. Despite the stiff challenge it presents, the peak remains a very popular hiking destination, attracting aspiration summiteers from all over the country.
Mt. Hood is a volcano, as is the case for most of the tallest peaks in Oregon. It has several glaciers that make summiting this mountain highly challenging. To get to the top you'll need a climbing partner and mountaineering equipment: crampons, ice axes, ropes, and a helmet.
But since this is an out-and-back hike, you can do it without mountaineering equipment. Just know you'll have to turn around before the top.
If you want to enjoy the best of this mountain without venturing into technical and dangerous terrain, check out the Timberline Trail. This gorgeous trail traverses all the way around Mt. Hood and does not require mountaineering equipment. However, hiking the entirety of the Timberline Trail means completing a 41-mile loop, so you'll need at least a few days.
No matter what you choose to hike in Mount Hood National Forest, be sure to hit the breakfast buffet at the Timberline Lodge afterward.
2. Trail of Ten Falls, Silver Falls State Park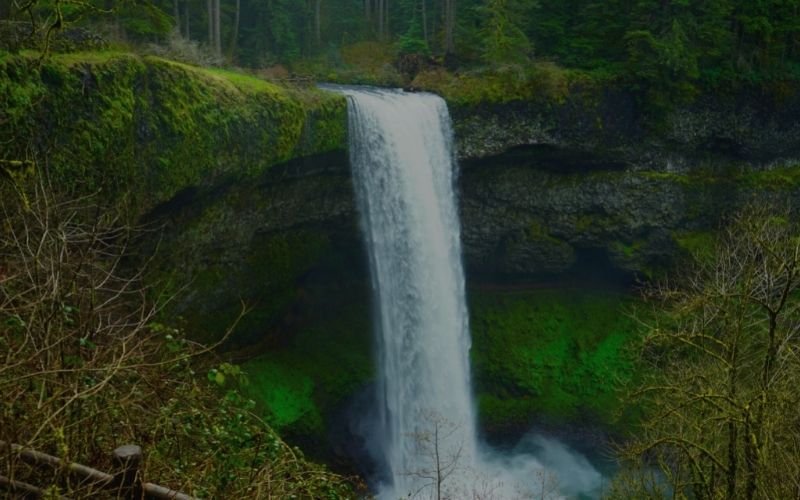 Distance: 7.8 miles
Difficulty: Moderate
Elevation: 1,300 feet
Type: Loop
The Trail of Ten Falls leads to waterfalls, first and foremost. But, it's not just any old waterfall hike. As you might have guessed by now, this trail goes by ten waterfalls. That's almost all the falls in the park and a large part of why this is one of the most popular hikes in Oregon.
Silver Falls State Park is only a short drive from Portland. The largest state park in Oregon, it has 16 hiking trails that meander through its 9,000 acres of unspoiled land. It's quite accessible, too. There is even a paved ADA accessible trail that circles South Falls.
The Trail of Ten Falls is easy enough for the whole family, but will certainly challenge you over the nearly 8-mile loop. You'll see lush forests of Douglas Fir and Cedar, ferns, and plenty of wildflowers.
And of course, you'll see waterfalls. From the 177-foot South Falls to the peaceful Twin Falls, you'll be in waterfall heaven.
3. Tamanawas Falls Trail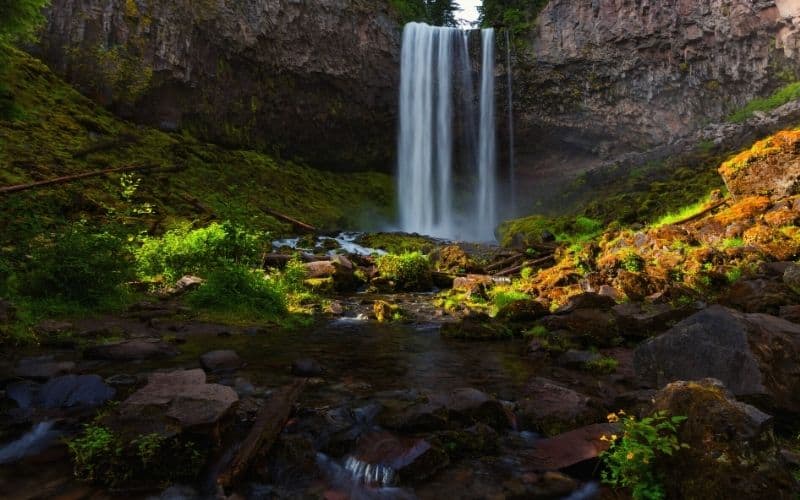 Distance: 3.3 miles
Difficulty: Easy
Elevation: 580 feet
Type: Out-and-back
The Tamanawas Falls Trail follows waterways all the way to the falls. It's a shorter out-and-back hike, so perfect for a relaxing afternoon. It has its challenges, though. The path will be rocky, with exposed roots, and it can be muddy during the rainy seasons.
You'll start by following the Hood River, walking through lush forest along the way. Then, branch off to follow the smaller North Fork Cold Spring Creek. From here, you'll hike uphill until you reach Tamanawa Falls.
The waterfall drops vertically off a cliff onto a boulder field. Behind the falls is a cave, but watch out for slippery rocks if you go back there!
4. Bald Mountain from Lolo Pass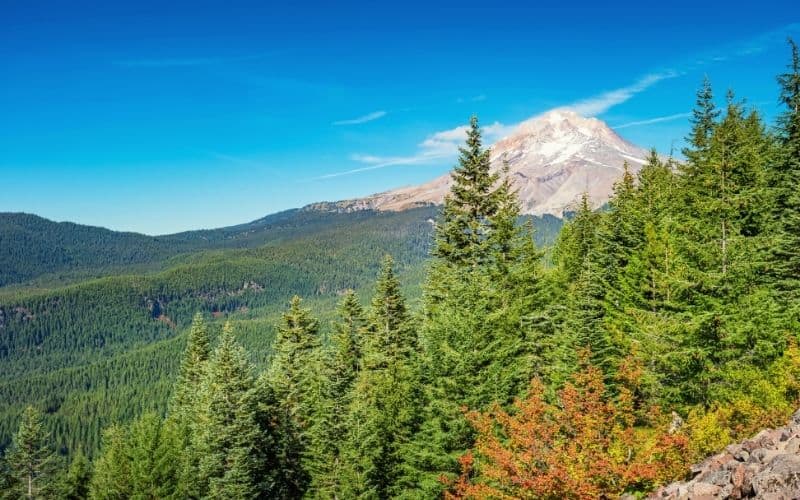 Distance: 6.7 miles
Difficulty: Moderate
Elevation: 1,489 feet
Type: Out-and-back
This moderately difficult out-and-back hike in Mt. Hood National Forest serves up awesome views of Mt. Hood and Mt. Adams. It goes to the top of Bald Mountain and can be connected to many other hikes in the area, including Romona Falls.
You'll start with a long climb up steep switchbacks before leveling out after the initial incline. Be sure to take the spur trail to the Bald Mountain summit and not the loop that goes around the summit. You can hike that loop, too, but don't you want to get those great views you just earned on the climb up?
While in the area, check out Ramona Falls, where you'll find beautiful cascading waterfalls tumbling over basalt pillars. From Bald Mountain, you'll be about 4 miles away, and they're well worth the side trip!
5. Tom, Dick & Harry Mountain Trail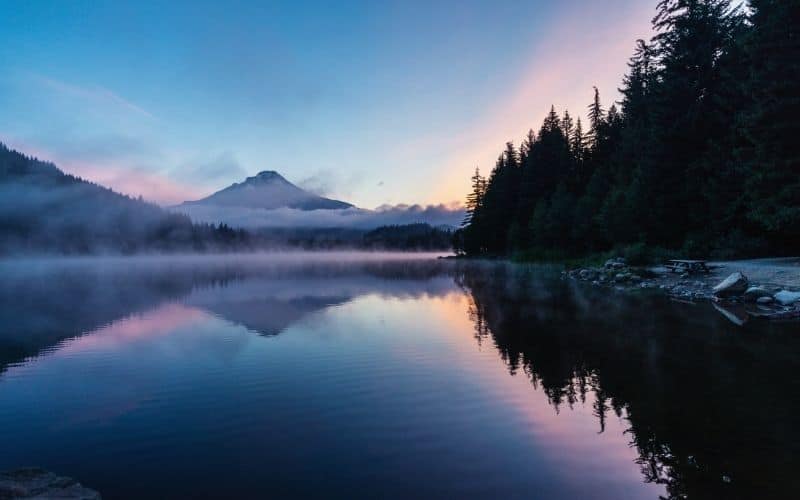 Distance: 9 miles
Difficulty: Moderate
Elevation: 1,709 feet
Type: Out-and-back
This is a funny name for a mountain, isn't it? This mountain has three peaks at its summit. I bet you can guess what the three peaks are named.
This Oregon hike takes Mirror Lake Trail all the way up. There will be crowds here in the summer, but they thin out after you get beyond Mirror Lake. Be sure to stop at this pretty lake for a break before you head on, though.
You'll see Mount Hood, Rainier, Adams, Jefferson, and Mount St. Helens on this hike. Holy volcanos! It can be difficult to follow at times so bring a map, compass, and GPS device. You'll encounter some steep, rocky terrain, so bring your trekking poles too.
The first quarter mile of this hike is ADA accessible. You'll need a Northwest Forest Pass or a day pass to park at the trailhead, too.
6. Wildwood Trail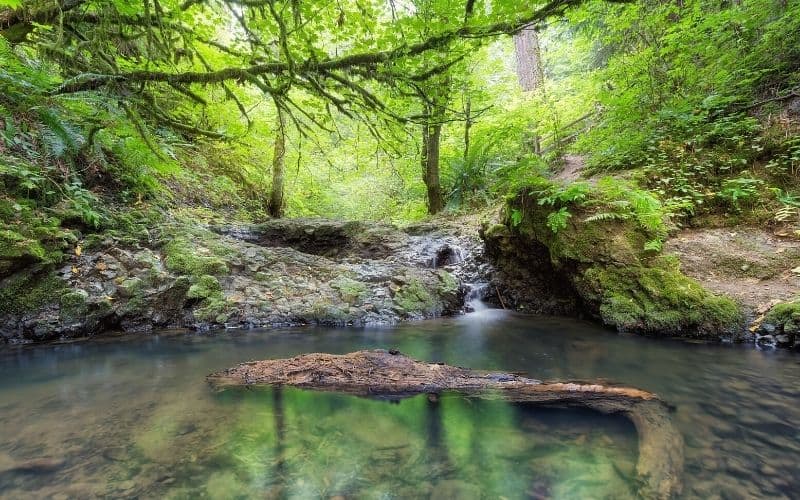 Distance: 29.5 miles
Difficulty: Moderate
Elevation: 3,113 feet
Type: Point-to-point
This one's awesome for a quick escape from the city. The entire trail goes 30 miles through Forest Park, just across the Willamette River from Portland. It will be pretty busy in Portland proper, but the crowds thin out as you go farther from Washington Park.
It starts at the Vietnam Memorial in Portland, passes close to the Oregon Zoo, Hoyt Arboretum, Pittock Mansion, and goes near the International Rose Test Garden.
There are multiple trailheads along the Wildwood Trail, so you can plan endless day trips throughout the park by making your own loop hikes.
Easy and Moderate Oregon Hikes
7. Neahkahnie Mountain via Oregon Coast Trail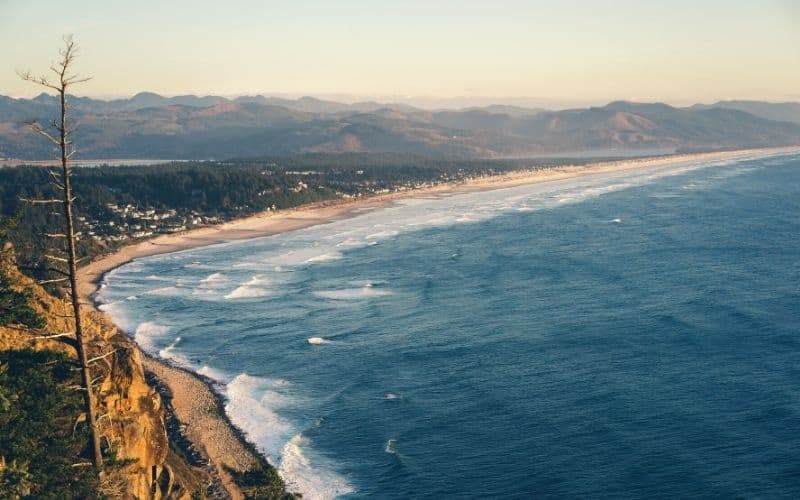 Difficulty: Moderate
Distance: 2.8 miles
Elevation: 866 feet
Type: Out-and-back
Neahkahnie Mountain provides stunning views of the Pacific's rugged coastline. You'll use the Oregon Coast Trail for this quick 3-mile adventure.
Hiking up to the top of the mountain, you'll see wildflowers in the springtime. Once you're on the top you can watch the waves crash against the jagged rocks on the beaches below.
This hike is usually muddy with lots of exposed roots, and also requires some rock scrambling near the peak. It is easier to hike from the trailhead south of Neahkahnie Mountain. If you're looking for a more rugged trail, hike to the top from the trailhead to the north. Alternatively, hike it as a point-to-point for a longer day and shuttle back to your car on Highway 101.
The Oregon Coast Trail extends for about 425 miles along the coast, so you could make this a much longer trip if you want!
8. Broken Top Trail to No Name Lake, Bend, Central Oregon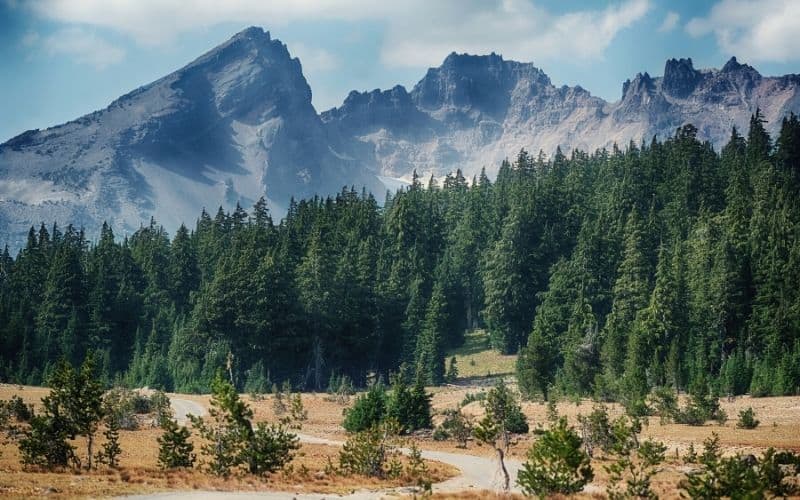 Difficulty: Moderate/Challenging
Distance: 6 miles
Elevation: 1,400 feet
Type: Out-and-back
The trek from Broken Top Trail to No Name Lake is without question one of the best hikes in central Oregon. This one is very popular. It will likely be crowded when you go, especially if it's on a weekend.
You'll need a high-clearance vehicle with 4WD required just to get to the trailhead. No trailers or RVs allowed, either. If you can't make it in your vehicle, then start at Todd Lake instead.
No Name Lake is a high-elevation alpine lake with gorgeous turquoise water, making it the ideal spot for a lunch break. For most of this trip you'll be able to see Broken Top, a 9,175-foot stratovolcano. You can also get to the top of this eroded, sharp peak for views of the surrounding Three Sisters Wilderness area.
No matter how far you go up, you'll be challenged on this hike. Expect loose rock, steep inclines, and some creek/river crossings.
A day-use permit is required for this hike.
9. The Misery Ridge Trail, Smith Rock State Park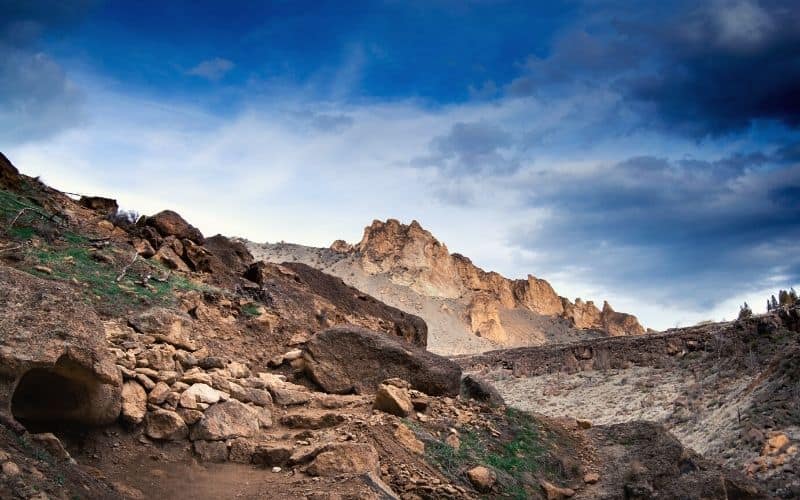 Difficulty: Moderate
Distance: 5.5 miles
Elevation: 1,800 feet
Type: Loop
Located near Bend, OR, Smith Rock State Park is in the central Oregon high desert. You'll see epic landscapes with stunning rock outcroppings jutting out of the desert floor. This is a very popular sport climbing destination, and you'll see why when you visit.
From the top of Misery Ridge hike, you get great views of Cascade Range. But the first mile on the way there is very difficult. You'll have a steep ascent from Crooked River Bridge. Don't worry, though, the going gets easier after that!
The highlight of this hike is the Monkey Face rock feature, a massive 350-foot spire. This rock outcropping is an iconic destination of Smith Rock State Park and a sight to behold!
10. Humbug Mountain Trail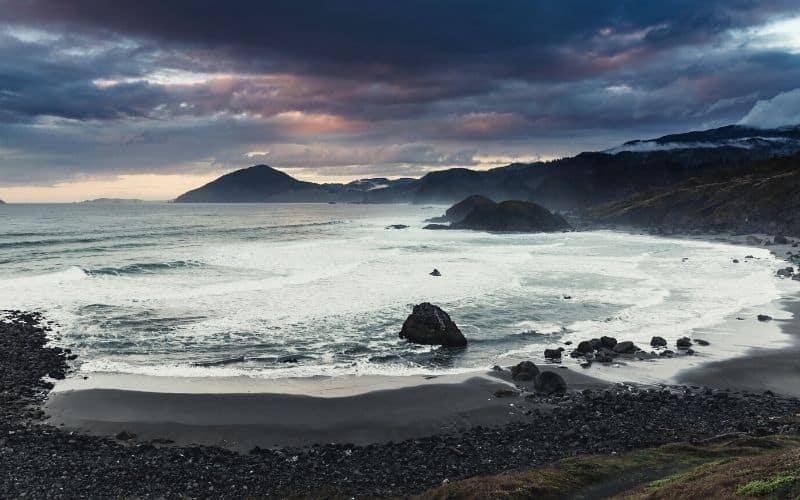 Difficulty: Moderate
Distance: 5.6 miles
Elevation: 1,784 feet
Type: Loop

Humbug Mountain is the tallest peak on the Oregon coast. It can be seen from miles away to the north and south. But from the top, the scenery is even better.
On this hike near Port Orford, you'll pass through dense forests thick with Douglas Firs and wildflowers. The trail is easy to follow and well maintained, with markers approximately every 1/4 mile.
Most of the climbing is early in the hike, so don't panic when you're breathing heavily right out of the gate. You'll get several ocean vistas peeking out from the forest as you go, but the best views are at the top, where you'll find a few benches where you can kick back and take it all in.
The west side of this loop is steeper. Consider going up this side to make the downhill a little safer.
11. God's Thumb via The Knoll
Difficulty: Moderate
Distance: 4.3 miles
Elevation: 1,131 feet
Type: Out-and-back
Another one of the best hiking trails in Oregon, this one's on the coast. Located near Neotsu, Oregon, God's Thumb is a cliff that points out to the Pacific Ocean. From this basalt rock formation, you'll have views of the Salmon River, Cascade Head, and the Oregon Coast. Make sure you have your footwear dialed in for this hike because it can be muddy, steep, and slippery.
Perhaps the hardest part of this hike is the parking situation. It starts at Roads End Trailhead, but there isn't any parking here. Instead, park at Road's End State Recreation Site and walk the road back to the trailhead. Do not park at the gated trailhead marked as private property.
12. Cleetwood Cove Trail, Crater Lake National Park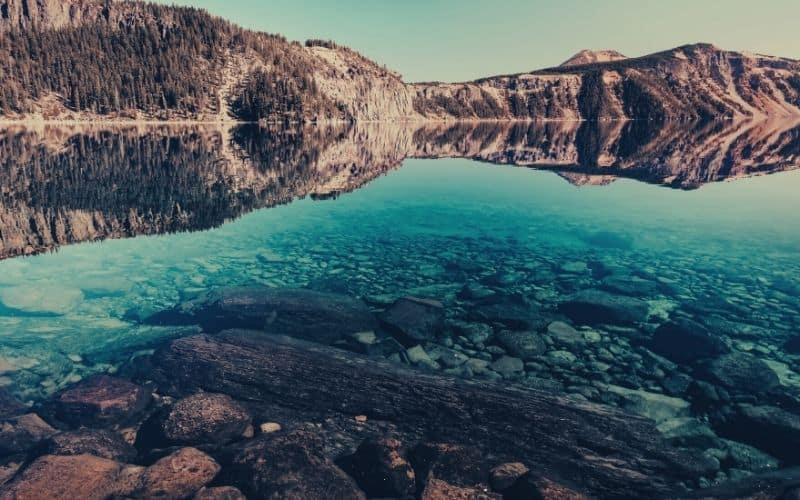 Difficulty: Moderate
Distance: 2.2 miles
Elevation: 700 feet
Type: Out-and-back
Crater Lake National Park is home to the deepest lake in the United States. There are many amazing hikes in CLNP, but we think Cleetwood Cove trail is the best.
This will take you down a steep descent to Crater Lake, giving you the option of a swim at the end. But be warned: the water is very cold! If you're even braver, jump off one of the rocks along the shore into the icy water.
You'll be sure to warm up on the way back, though. Those 700 feet you descended over one mile? They now need to be hiked up the way.
If a hike to the water isn't your thing, try the Watchman's Peak Trail. This moderate 1.6-mile round trip leads to amazing views of Wizard Island and the rest of the lake.
By the way, Wizard Island is that large island in the middle of Crater Lake. Think you can swim there? It's farther than it looks.
13. McKenzie River Trail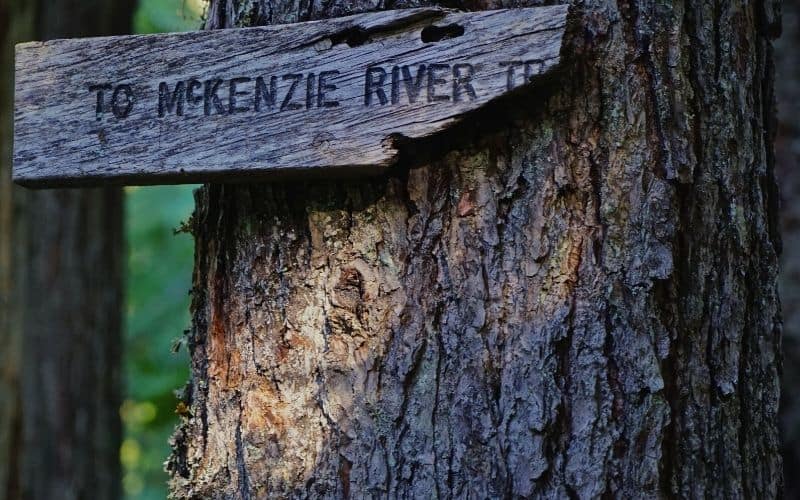 Difficulty: Moderate
Distance: 24.1 miles
Elevation: 8,264 feet
Type: Point-to-point
This hike is relatively flat and very popular with mountain bikers. It's mostly through forest, but passes intriguing lava fields and waterfalls.
The highlight of this one is the Blue Pool, also known as Tamolitch Pool. Here, the McKenzie River seeps out of an underground lava field. The result is a large blue pool surrounded by stunning trees and moss-covered rocks.
There is great camping along the route. You can take many shorter day hikes out here, too. And the best part? It's accessible all year.
14. Eagle Creek Trail, Columbia River Gorge National Scenic Area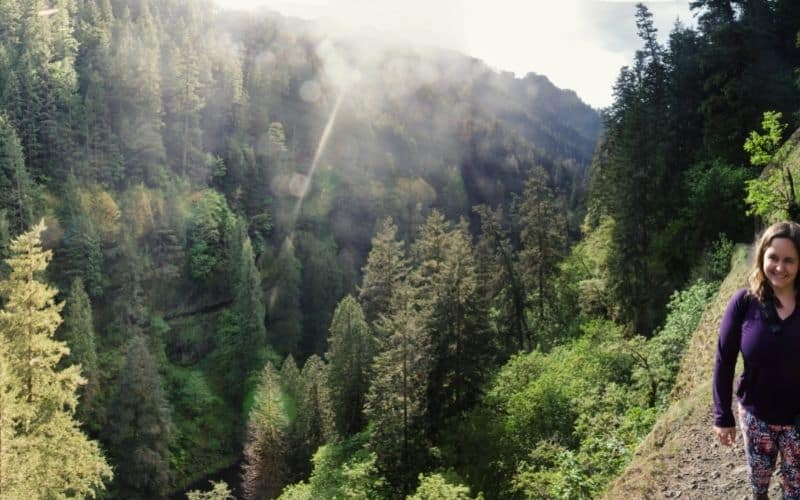 Difficulty: Moderate
Distance: 25.3 miles
Elevation: 6,256 feet
Type: Out-and-back
This moderate hike starts in the Columbia River Gorge in Cascade Locks, OR. Part of this hike is also part of the Pacific Crest Trail, so expect to see lots of hikers if you're here in peak thru-hiking season.
The Eagle Creek Trail starts at Eagle Creek Campground and goes to Wahtum Lake. From the start, there is consistent elevation gain for just over 12 miles to get to the top
This Oregon trail meanders through classic Pacific Northwest scenery. You'll see a few waterfalls and have epic views of the Columbia River Gorge as you climb higher and higher. Twister Falls is about 6 miles in. This would make for a great 12-mile out-and-back day trip, but if you keep going you'll reach Tunnel Falls, another epic waterfall well worth seeing.
If you're in the area, we also recommend checking out the Larch Mountain Trail, about a 45-minute drive along the Historic Columbia River Highway.
Challenging Oregon Trails
15. Eagle Cap Wilderness Loop, Wallowa Mountains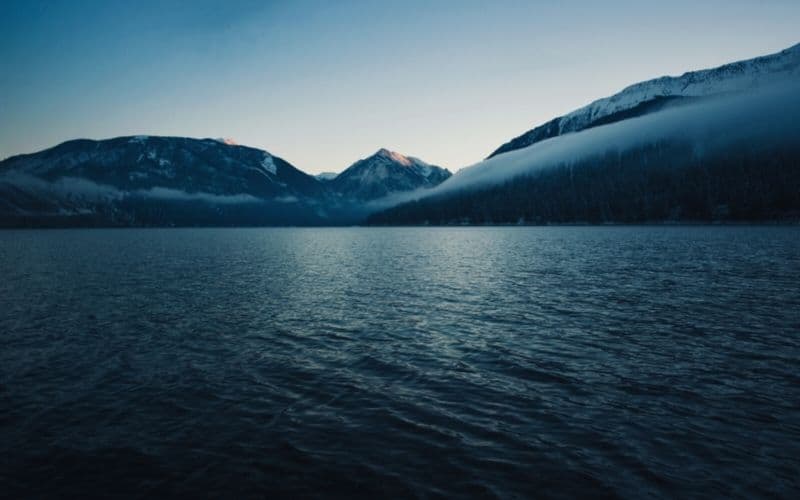 Difficulty: Challenging
Distance: 38 miles
Elevation: 8,264 feet
Type: Loop
The Wallowa Mountains have some of the best alpine trails in all of Oregon. On this loop you'll see green alpine meadows, lots of lakes, and glacial valleys.
This alpine trail goes over three mountain passes: Horton, Glacier, and Hawkins Pass. Only experienced hikers should take on this multi-day adventure, as there's lots of ascent and some of the trails aren't well marked. It's also very rocky in places, so wear good hiking boots and bring your trekking poles.
Since this is at high elevation, be prepared for lots of exposed hiking. Bring a hat, sunglasses, sunscreen, and consider wearing long sleeves. It is best done later in the summer to avoid snow travel.
If you're up for it, rugged granite peaks, countless pristine alpine lakes, and awesome backcountry camping will be your reward.
16. Paulina Peak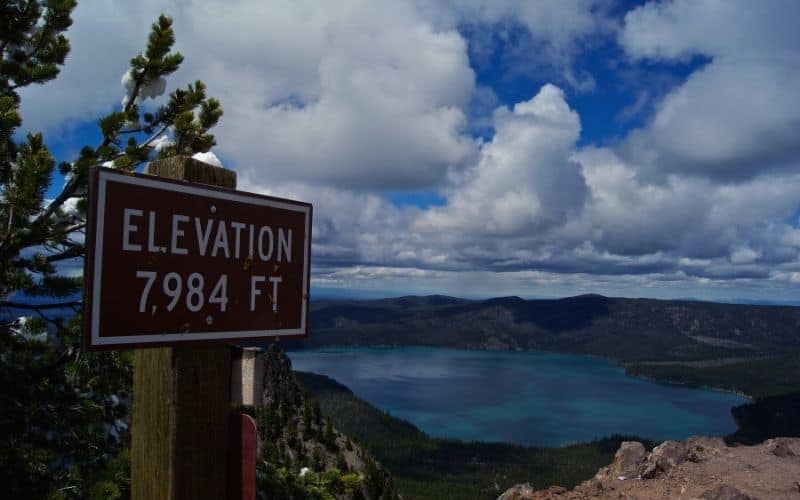 Difficulty: Strenuous
Distance: 6.1 miles
Elevation: 1,607 feet
Type: Out-and-back

This one is a steep climb leading to the iconic Paulina Peak, a 7,984-foot mountain that provides epic, 360-degree views from the summit. From here you'll be at the highest point in Newberry National Volcanic Monument, with the Oregon high desert to the east and the Cascades to the west.
You'll also see the nearby Newberry Caldera, commonly referred to as Newberry Crater. This ancient center of the volcano stretches for 17 square miles throughout the monument. Even cooler, the volcano is still active!
This strenuous hike starts at Paulina Lake. Here you'll find a campground next to the intensely blue water, so you can make it a weekend trip to explore everything Newberry National Volcanic Monument has to offer.
This area is subject to seasonal closures, so check the website before you go in the offseason.
17. South Sister Trail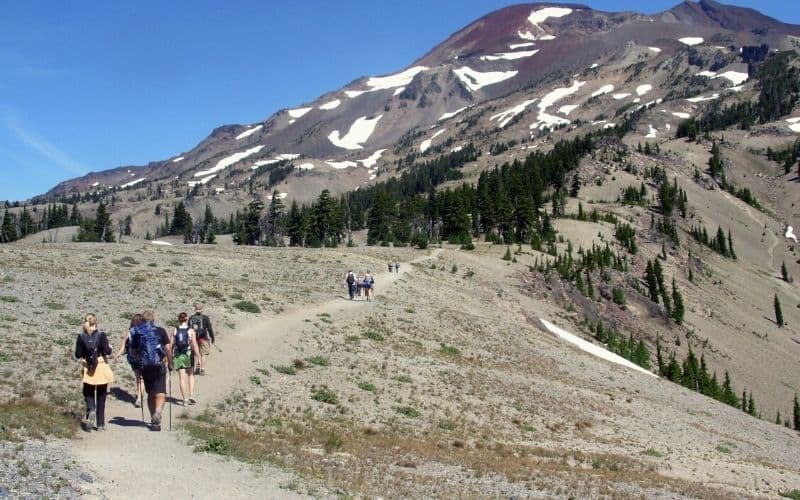 Difficulty: Challenging
Distance: 11.6 miles
Elevation: 4,986 feet
Type: Out-and-back
This Oregon adventure climbs up South Sister Peak, the third tallest peak in Oregon and the tallest of the three sisters. From atop this volcanic ridge you get breathtaking views. Look around, and you'll be able to pick out many of the other tallest peaks in Oregon.
Starting at Devil's Lake Campground, the trail winds through forest for the first few miles on the way to the base of the mountain. From here on, you'll do a lot of climbing, gaining almost 1,000 feet per mile over loose rocks and dirt.
While you'll need to be prepared for icy conditions, unlike many of the tallest peaks in Oregon, you don't need mountaineering skills or equipment to summit South Sister Peak. Bring warm layers for while you're up there, though, because the summit will likely be cold and windy, even in the summertime.
A Central Cascades Wilderness permit is required for day use.
18. Three Sisters Loop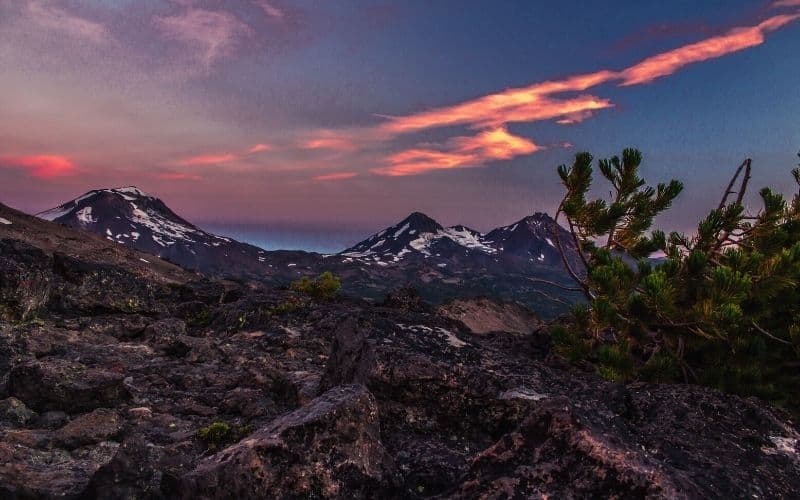 Difficulty: Challenging
Distance: 47.5 miles
Elevation: 7,050 feet
Type: Loop
This multi-day epic loops through the Three Sisters Wilderness Area. During this nearly 50-mile trek, you'll be surrounded by three impressive peaks, the Three Sisters.
The loop crosses volcanic lava fields. And you'll have big climbs, to even bigger views. After the climbs, you'll find beautiful places to set up camp for the night.
The north and east sides of this loop cross a burned area, though, so set your expectations accordingly for this section. Fire is a reality of life in the mountain west, but seeing the scarred mountainside is likely to be hard for some. The northeastern part of the loop also has less water, so plan accordingly.
Day use and overnight permits are required.
19. Steens Mountain Gorges Loop
Difficulty: Challenging
Distance: 28 miles
Elevation: 5,240 feet
Type: Loop
This is one of the most unique hikes on this list. You'll find the Steen Mountain Gorges Loop in the southeast corner of Oregon. Looking for intense wilderness isolation off the beaten path? Waterfalls, deep canyons? This one's for you.
On this desert loop you'll experience varying landscapes. From high desert surrounded by alkaline playas to ridgelines with endless views, there is a little bit of everything out here.
The loop connects Big Indian Gorge and Little Blitzen Gorge, both carved out of the rock during the last ice age. The two gorges are connected via Steens Mountain Road, a scenic dirt road that passes the high point of Steens Mountain monolith, at 9,733 feet. It's a relatively short but steep side trip to the top.
Some of this hike is on trails, some is on dirt roads, and some involves off-trail route-finding in the Gorges. Expect steep climbing and descents when traveling from one gorge to the other. At the many high points, though, you'll be rewarded with endless views of the Alvord Desert below. The dry, white, and cracked alkaline landscape is otherworldly.
Be prepared and aware of your surroundings on this route. Water is limited in areas, so do your research before heading out. Watch out for ticks, mosquitoes, and rattlesnakes, too.
This area is susceptible to extreme weather changes, so be prepared for huge temperature swings. It can snow all year here and the area is prone to sudden lightning storms. Prepare for strong winds and choose your campsites accordingly.
Related Oregon Outdoor Adventure
For more outdoor adventures around Oregon check out the following guides:
Some Tips for Having a Great Time Hiking in Oregon
You can often camp near the trailhead in the areas we've listed here. This way, you'll have more time for hiking. Just be sure to always follow leave no trace principles.
Some of the hikes on this list require a Northwest Pass. It costs $30, but provides access to the best Oregon hikes for the entire year. Alternatively, you can purchase a day pass to use these recreation sites.
This list from the Forest Service tells you which Oregon trails required a permit.
We hope you found this list of Oregon's best hikes helpful for planning your next Oregon hiking trip. Did we forget your favorite trail? Leave us a comment below!