With millions of miles of roads to travel, cross-country road trips are hands down the best way to explore the United States. There's nothing like hitting the open road and driving through the diverse landscapes that make up this beautiful country.
Going on a Great American Road Trip is a bucket list experience you won't soon forget. And what better way to do it than while sleeping under the stars at some of the nation's top natural wonders?
In this guide, we'll explore everything you need to know, including how to plan a successful road trip, how to find campsites, estimated costs, and the top cross-country routes in America.
Why Make a Cross-Country Trip?
The Great American Road Trip is a world-famous bucket list adventure. It's an unforgettable journey through stunning landscapes, diverse cultures, and countless natural wonders.
From Death Valley National Park's sprawling desert to New England's windswept cliffs, there's so much to see in this vast country! A cross-country road trip offers the opportunity to discover new destinations and take in the gorgeous scenery along the way.
This type of travel is challenging yet rewarding and will give you a great sense of accomplishment at the end of the journey. It pushes you to step out of your comfort zone, try new things, and gain new perspectives. Whether you're doing it solo or cruising along with family or friends, it's a unique chance to get to know new people and connect with locals across the nation.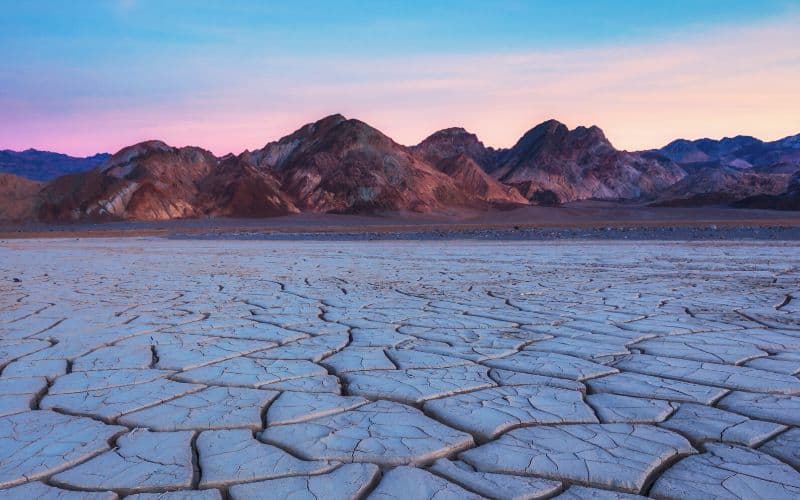 How to Take a Cross-Country Camping Trip: All You Need to Know
Planning and preparing for cross-country road trips can be a bit intimidating if you've never done one before. In the sections below, we're covering everything from choosing your route to budgeting for your vacation.
Plan Your Road Trip Route
One of the most important steps in planning your adventure is choosing your road trip route. With so many incredible places to uncover, this can be a difficult task!
To begin planning your route, you need to decide exactly where you want to go and what you want to see. Do a little research online or browse through some library books for inspiration. If you need ideas, check out the recommended cross-country routes at the bottom of this article.
After deciding on your must-see destinations, you should figure out how much time you have for the road trip. The trip length is a decisive factor in planning out which places you can visit in the allotted time, how many days you can spend at each, and exactly how far you can drive.
Once you have a list of places to see and know how much time you have, plot out the course on a map. Use online mapping tools, like Google Maps, or a physical road atlas to map your route.
Remember to take into account the distance and driving time between each destination. And leave time to stop for meals and bathroom breaks!
Resources for Research
There are a variety of road trip planning resources available, ranging from road atlases to apps to online mapping tools.
Online Mapping and Navigation Tools
Google Maps, Waze, Maps.me, and Roadtrippers are all online mapping tools that will help you plan out your route. They all have app versions that you can download for use on the road.
These types of tools show you the multiple route options along with the estimated travel time for each. Most of these also display accommodations, campgrounds, points of interest, and other locations along the way.
Travel Guides
Picking up a travel guide for your destination will help you learn more about the region's best things to do. Most travel guides also provide multi-day itineraries with must-see attractions and essential travel tips. For a comprehensive, US-wide guide, we recommend the Moon State-by-State Bucket List Guide.
National Park Service
The National Park Service website has information about all the U.S. national parks. It features opening and closing times, fees, best times to visit, and detailed directions to the park entrances. You can also discover the top things to do, buy tour tickets, and make reservations for campgrounds.
Country and State Tourism Websites
Visit the USA is a fantastic resource for planning a road trip across America. They have day-by-day itineraries, lists of top attractions, and tons of stunning photographs for inspiration. In addition to the U.S. tourism website, every state has a useful tourism website featuring the area's must-see destinations, itineraries, and other helpful tips for visitors.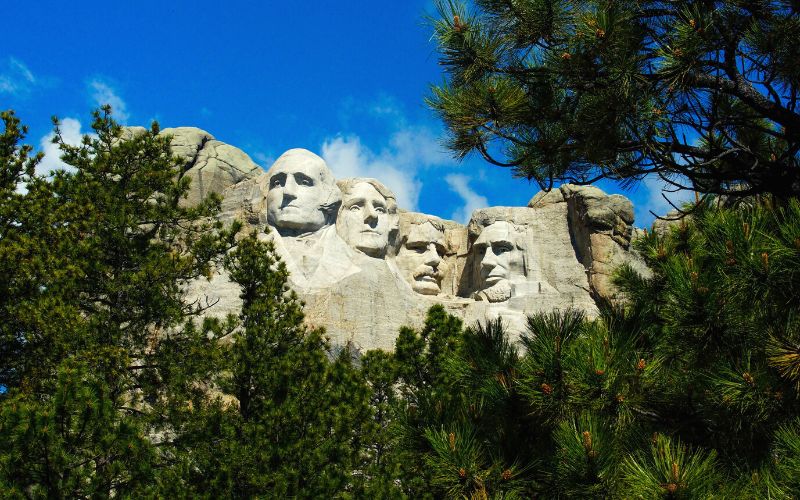 AAA Road Trip Planner
Even if you don't have AAA, pay a visit to their website and check out the road trip planner. They have hundreds of road trip itineraries to choose from regions across the U.S. Each detailed itinerary is divided up by destination and features recommended stops including popular restaurants, museums, landmarks, and other points of interest.
Logistics
Proper planning and organization are the keys to an enjoyable, safe, and successful journey. These are the most important logistics to consider for planning a cross-country trip.
Route Planning
Determining your route is the first step in planning your trip. The route you take depends on the places you want to visit, the length of your journey, and how long you're staying at each destination.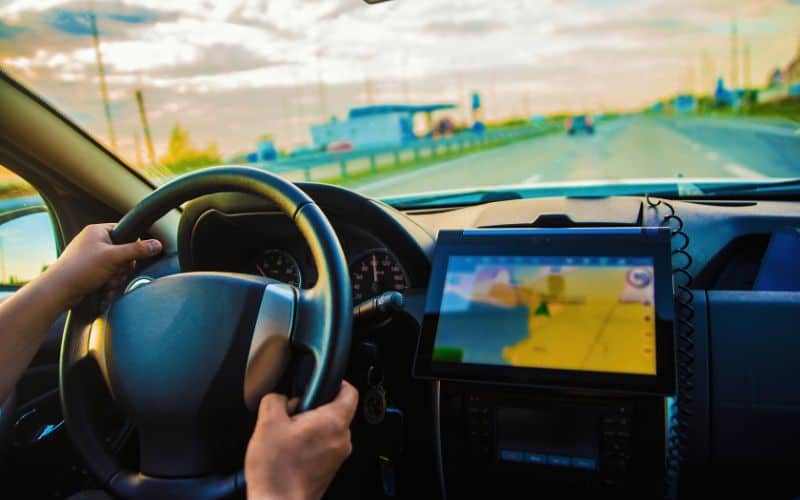 Vehicle Maintenance or Rental
If you're taking your own car, it's important to take it to the shop for service and maintenance before the long drive.
If you are renting a vehicle, always make reservations well ahead of time and get good insurance coverage.
Packing the Right Gear
Having the right camping gear and equipment can make or break your vacation. Be sure to pack all of the car camping essentials like a tent, sleeping bag, cooler, cooking equipment, and camp tools.
For a more enjoyable drive, download entertainment offline like audiobooks, music, and podcasts.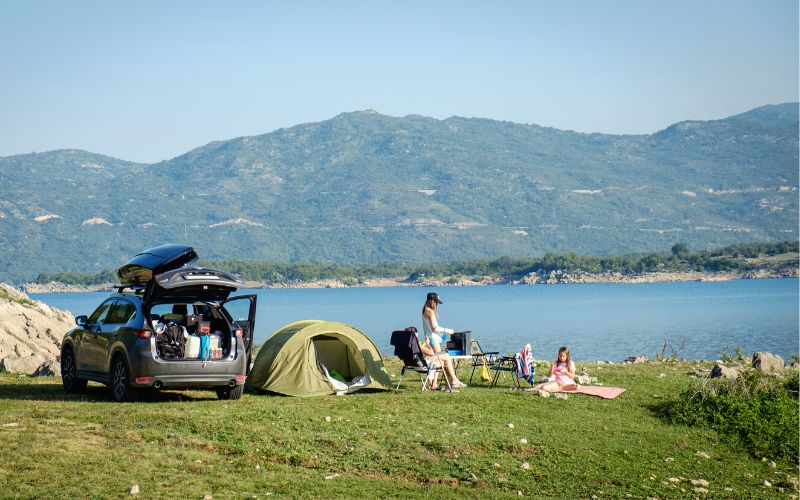 Safety
Always check the weather and road conditions before starting each day's drive. Keep a first aid kit, blankets, and extra water and snacks in your car at all times in case of emergencies or severe weather, like a flat tire or whiteout.
Accommodations
Research and book your campsites as soon as possible, especially if you're traveling during peak season. Keep in mind that many campgrounds at popular national parks are sold out up to six months in advance.
If you need a break from camping, you can always switch it up and book a few nights at fun and unique accommodations like a log cabin or yurt.
Food
Will you stop for lunch at restaurants or save money by packing sandwiches for the road? Pack enough food to keep everyone from getting hungry and grumpy during the road trip. Fill up the cooler with ice and cold drinks to stay hydrated during long drives. And don't forget to throw in some snacks.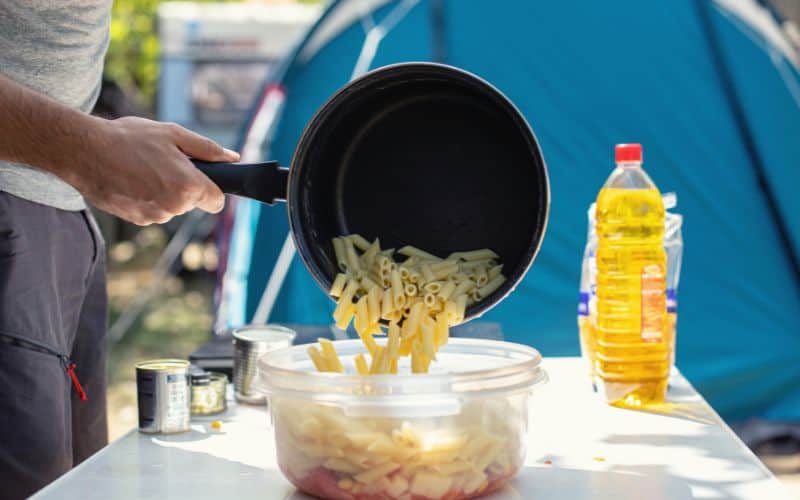 Budgeting
Figure out how much you want to spend on this vacation and create a budget so you don't go over. Take into account all of the expenses like gas, food, car maintenance or vehicle rental, attraction entrances and tours, camping gear, and campground fees. And make sure to leave a little aside for any unexpected expenses, too.
Where to Find Free Campsites and Cheap Campsites
These are some of the most common locations for pitching a tent in the great outdoors for free (or very cheap).
BLM and USFS Land
The best way to pitch a tent for free is to disperse camp on US Forest Service (USFS) and BLM-managed land.
The Bureau of Land Management, commonly known as BLM, offers a range of options for spending the night under the stars. You can park your car at a developed campground with toilets and picnic tables or drive off deep into the backcountry to get away from it all.
The vast majority of the open areas for dispersed camping are free, but BLM also has developed campgrounds which usually cost less than 10 dollars per night.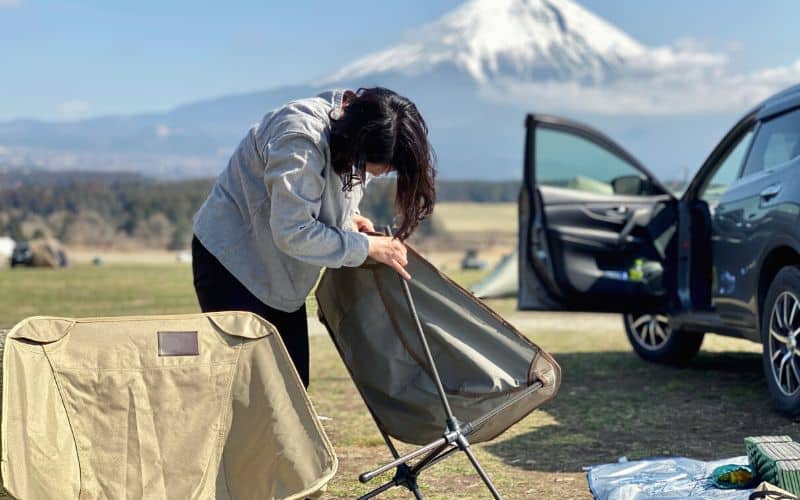 To find car camping areas on BLM land, you need to search online for BLM maps of the area or contact the regional office for advice. iOverlander is a fantastic website and app for finding free camping spots around the country.
National Parks
Some of the most scenic campgrounds in the country are found within national parks. Fares vary depending on the park, but many parks also offer free primitive camping areas.
The Recreation.gov website and app is the best place to search for and reserve a site at campgrounds across federal lands. For the best chance at booking the site of your choice, be ready to reserve your site exactly six months before your journey and visit the website first thing in the morning on that day to book your reservation.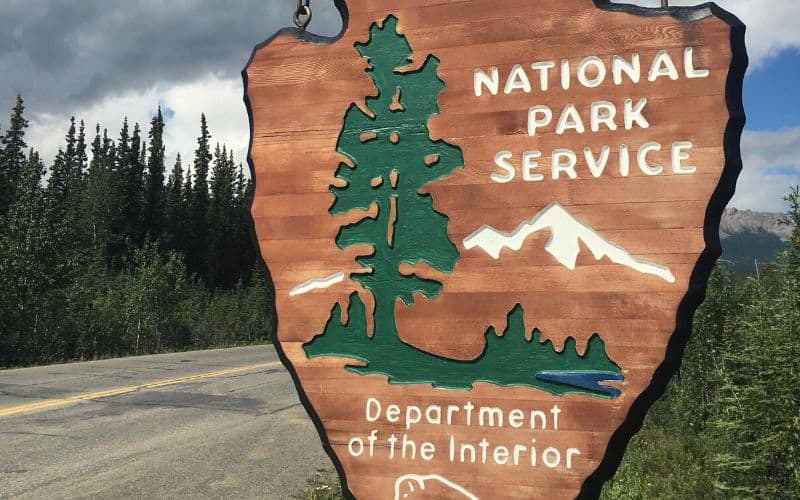 State and County Parks
Campgrounds at state and country parks are usually less busy than national parks and cheaper than private campgrounds. Some state and country parks even offer discounts for residents.
The best way to find campgrounds at these parks is to search online for the state or county's official park website. They provide a list of campgrounds along with information about amenities, fees, and reservations.
Private Campgrounds
Private campgrounds are usually some of the top options for pitching your tent when visiting cities. Rates at private campgrounds and RV parks can vary from around $10 in rural areas to over $100 in the pricier cities.
It's easy to search for privately-owned campgrounds in the area you're visiting on Google Maps. From there, you can visit their website to get more information and make reservations online or over the phone.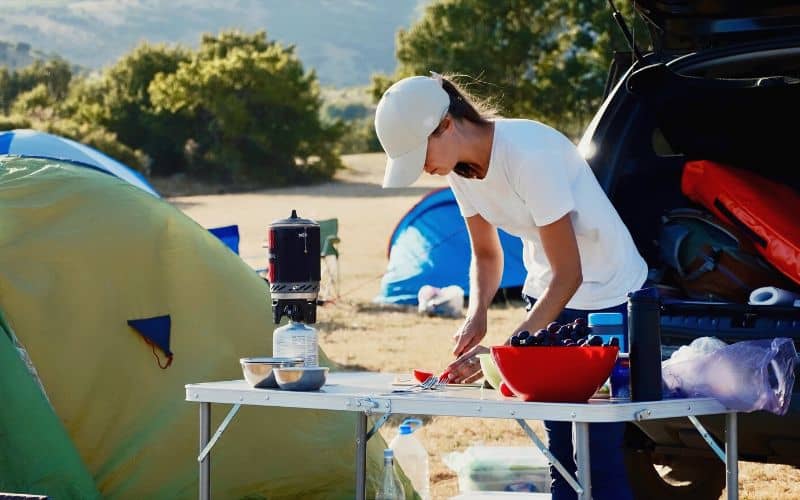 Costs
The cost of a cross-country road trip can vary widely depending on a variety of factors. Things like the length of the journey, distance traveled, vehicle's gas mileage, gas prices, and cost of accommodations and activities all contribute to the total cost of the vacation.
While going on educational tours, visiting all the major attractions, and dining out daily to get a taste of the local fare will probably make your adventure much more entertaining, the costs will start to add up quickly.
Camping during the journey is a great way to keep costs down, but even campground fees can begin to break the bank after a few nights at a spot with luxury amenities.
If you're on a tight budget, it's crucial to plan and stay on budget. Use a fuel calculator to calculate how much you're going to spend on gas. From there you can play with the numbers to figure out where you can afford to stay and what your daily spending limit is.
Luckily, there are plenty of things you can do to keep costs down. Prepare your meals and pack snacks instead of pulling over for lunch at roadside restaurants. Opt for free activities like natural hot springs, hiking, scenic drives and overlooks, and historical landmarks. To save on accommodations, stay exclusively at free camping areas.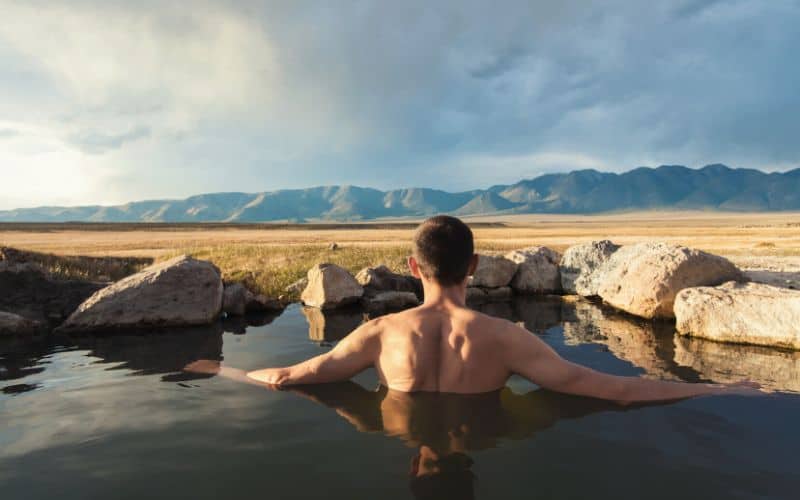 Cross-Country Itineraries
Can't decide where you want to go? Here are some of the best cross-country itineraries in the United States.
1. Route 50
Also known as the "Loneliest Road in America," Route 50 travels from the Atlantic Ocean to California. It spans over 3,000 miles from Ocean City in Maryland to the Sacramento area in northern California. Along this mostly rural route, you'll encounter small towns, farmlands, mountains, deserts, and the great plains as you pass through 11 states and Washington D.C.
Some of the top attractions along Route 50 are Washington D.C., St. Louis Gateway Arch National Park in Missouri, Black Canyon of the Gunnison National Park in Colorado, the Rocky Mountains, Great Basin National Park in Nevada, and Lake Tahoe and the Sierra Nevadas in California.
After that, why not extend your trip and head onto the Pacific Coast Highway?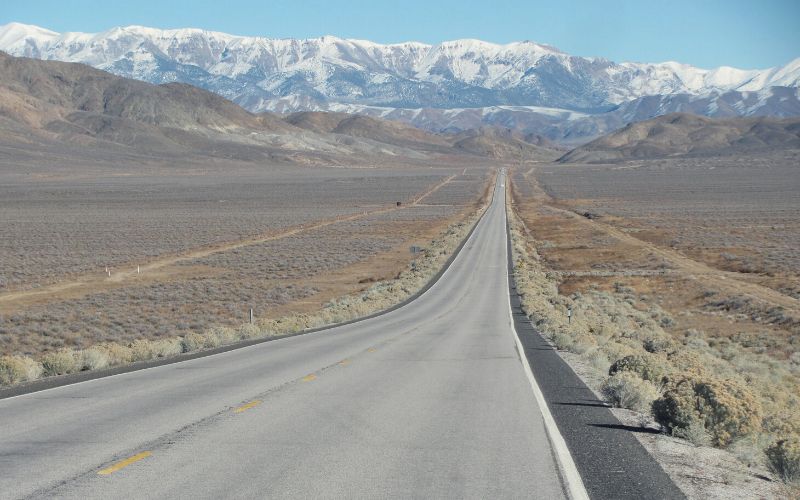 2. The Road to Nowhere
The Road to Nowhere is a nickname for US-83. It's a north-south highway stretching almost 1,900 miles in the central United States. This relatively straight route begins at the Canadian border and travels through North Dakota, South Dakota, Nebraska, Kansas, Oklahoma, and Texas before ending at the Mexican border.
A road trip along US-83 takes campers through America's heartland while passing by rolling prairies, farmland, and the Texas Hill Country.
This route takes in unique attractions like the Knife River Indian Villages National Historic Site and Fort Clark Historic Site in North Dakota, Fort Pierre National Grassland in Nebraska, the film location for Wizard of Oz in Kansas, and the historic Alamo in San Antonio, Texas.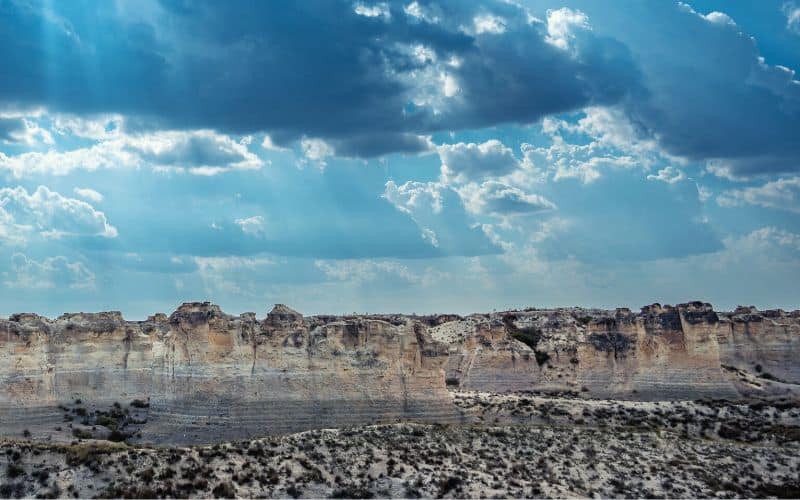 3. Coast to Coast
The Coast-to-Coast road trip is one of the best routes for American history buffs. This historic route stretches across 11 states from Massachusetts to Oregon. Along the way, you'll get to travel along a section of the historic Oregon Trail. This 2,000-mile route begins in Missouri and is the same one used by pioneers headed West in the 1800s.
Some of the top things to see on this route are the Cape Cod National Seashore and Plymouth in Massachusetts, Niagara Falls in New York, the Rock and Roll Hall of Fame in Ohio, Indiana Dunes State Park in Indiana, Yellowstone National Park in Wyoming, Fort Boise in Idaho, and the Oregon Trail Interpretive Center in Oregon City.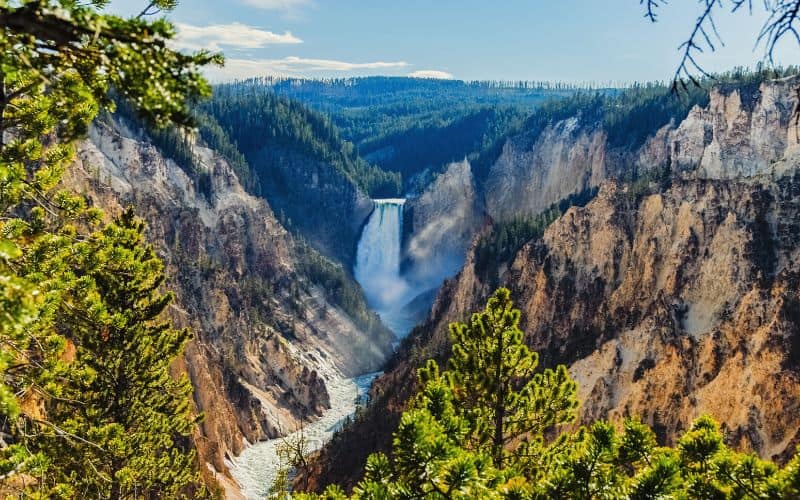 4. North to South (or South to North)
For an exploration of the diverse cultures and landscapes along the east coast, take a road trip along I-95. This north-to-south highway takes you through almost every major city on the Atlantic coast. It begins at the northern Canadian border in Maine and ends all the way south in Miami, Florida.
As you pass by Boston, Philadelphia, D.C., New York, South Carolina, and Miami you'll gain a new perspective on the history, foods, and architecture of each city.
The ever-changing landscapes along this tip will take you from the forests and windswept cliffs in the north to swamps and tropical beaches in the south. You can extend this journey by continuing south of Miami to the "Southernmost Tip of Continental USA" marker in Key West.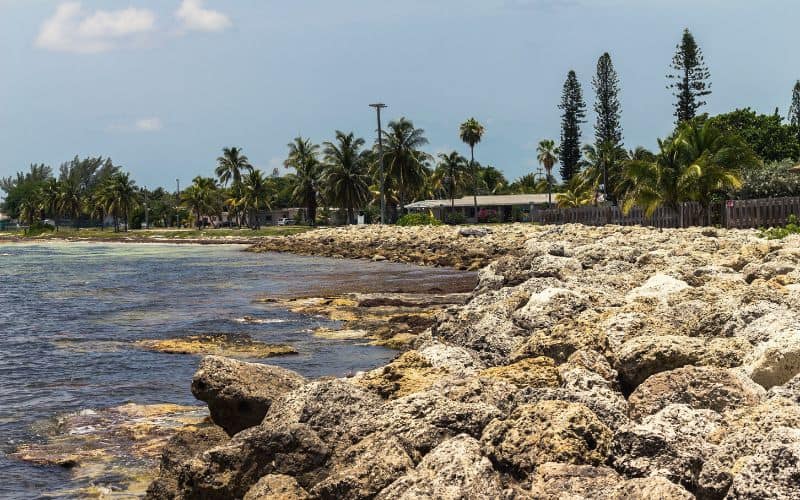 5. The Great Northern Route
If you'd like to add an international element to your cross-country road trip, take a drive along US-2 and visit Canada. Known as the Great Northern Route, this highway travels through 10 states across the northern U.S.
This two to three-week road trip begins in Maine, goes through New England, meanders through Canada, and enters back into the United States in Michigan before continuing to Washington.
It's the northernmost cross-country route in the country and sans 3,600 miles from coast to coast. Some of the top attractions include Acadia National Park in Maine, Montreal in Canada, the Wisconsin Dells, the World's Largest Buffalo statue in North Dakota, Glacier National Park in Montana, and Seattle.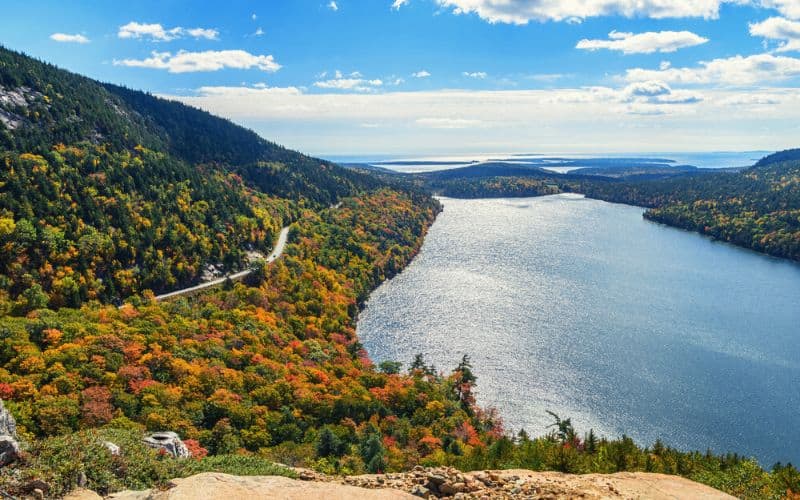 Enjoy!
Taking a cross-country camping trip is an unforgettable adventure and an incredible way to explore the United States' top destinations, from historical sites to natural wonders.
For a successful journey, be sure to plan your route carefully, choose your overnight stops well, pack all of the car camping essentials, and get ready for the adventure of a lifetime!
What are your top recommendations for a camping trip across the country? Share them in the comments below. If you enjoyed this article, please send it to your family and friends to help them plan their next adventure!