Located on Michigan's lower peninsula, Nordhouse Dunes Wilderness Area is likely the state's most impressive piece of shoreline. Large sand dunes, formed nearly 4,000 years ago, stand proudly over Lake Michigan and provide untouched shoreline access to many hikers and backpackers every season.
A diverse landscape, unique ecosystems, and multiple examples of federally endangered plant and animal species make for a memorable excursion. Whether you choose to spend a few quiet hours beachcombing beside Lake Michigan or opt for a full, overnight adventure, there is something here for everyone.
Key Takeaways
The dunes are a federally designated wilderness area located on Michigan's lower peninsula

The forested bluffs and windswept dunes measure over 100ft. tall

The hike is located in the largest interdunal pond ecosystem found on Earth

The dunes span 4 miles of undeveloped, white sand beach along Lake Michigan

Navigation can be challenging due to the lack of trail signs, names, or directional indicators once inside the wilderness area

Hiking many miles over soft sand can be exhausting

It can be crowded in July & August
RELATED: Backpacking the Manistee River Trail
Trail Overview
Ludington Dune Ecosystem
The expansive dune system found within Nordhouse Dunes Wilderness Area is part of the larger, Ludington Dune ecosystem, which, also, includes shorelines along Lake Michigan Recreation Area and Ludington State Park. The Ludington Dune ecosystem is recognized by the U.S. Forest Service as 'the largest area of interdunal ponds in the world.'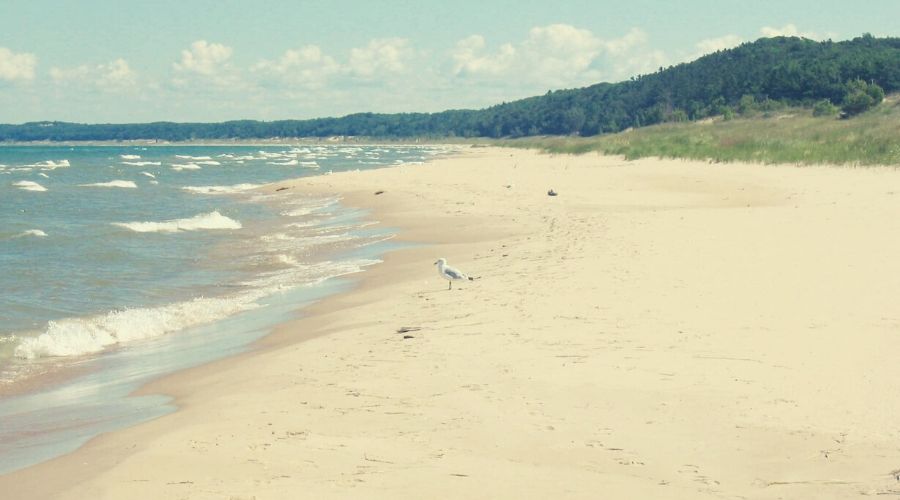 Thanks to these marshes and dispersed water collection areas, Nordhouse Dunes features a wide array of plant life, vegetation, and dune grasses which provide habitat for numerous species. See if you can identify the Pitcher's Thistle or a Piping Plover, a federally endangered species of plant and shorebird that call the dunes home.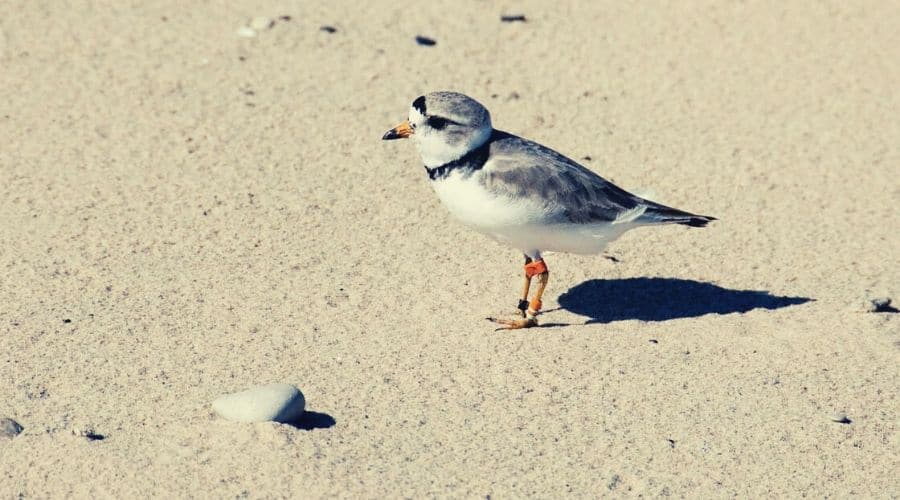 Public land designations
The Nordhouse Dunes Wilderness Area continues to be the only federally designated wilderness on Michigan's lower peninsula. Among other protections, this ensures that no mechanical access is allowed within its boundaries and that human influence here will be minimized. Protected under Michigan's 1987 Wilderness Act, all 3,450 acres of Nordhouse Dunes are, also, considered part of the larger Huron-Manistee National Forests.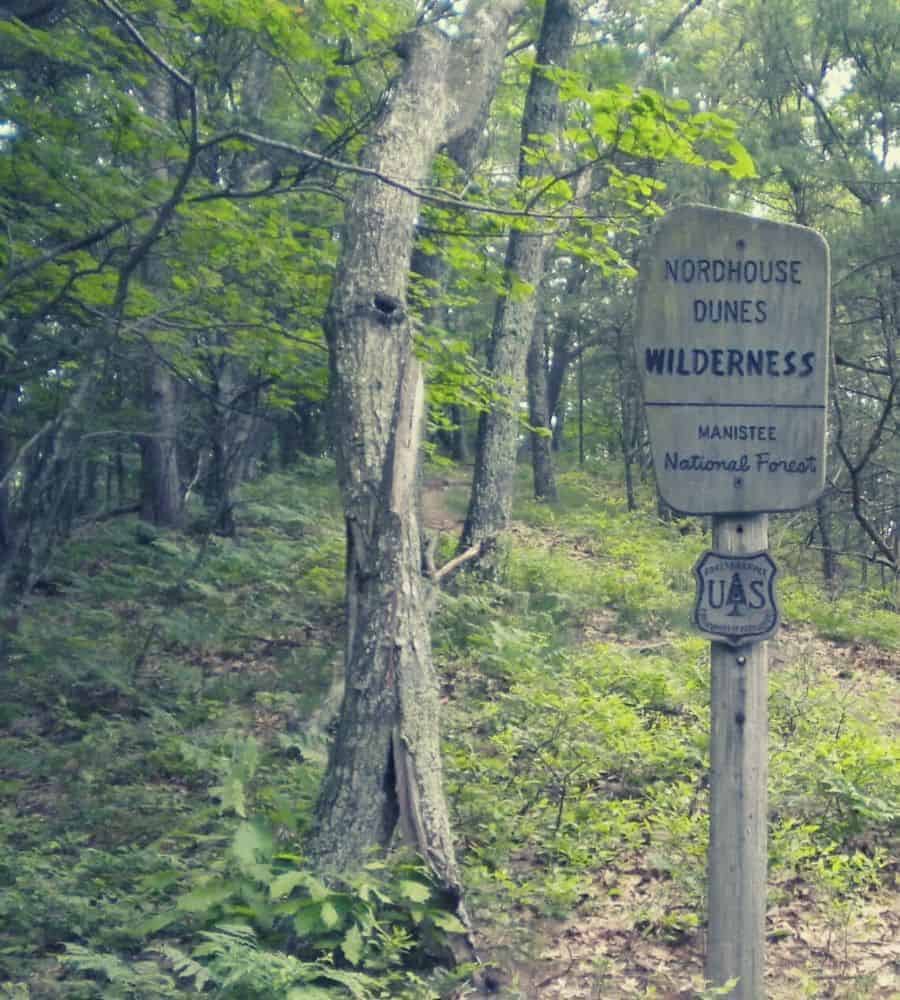 Type of Trail
There are, approximately, ten miles of trail within the wilderness area for you to explore. While the path through the forested sections is easy to follow and comfortable to walk, the opposite can be said for the 2+ miles of hiking on sand. Since its designation as a wilderness area, all interior trail signs and markings have been removed, which can make for challenging navigation when trying to determine where to leave the sandy beaches.
RELATED READING: Check out our main page for more hiking in Michigan inspiration.
Difficulty
The main challenge for hikers within this, relatively, small wilderness area will be navigating the unmarked trails, as mentioned above. While the elevation change experienced this close to Lake Michigan is minimal, you should never underestimate the fatigue brought about by hiking over mounds of sand.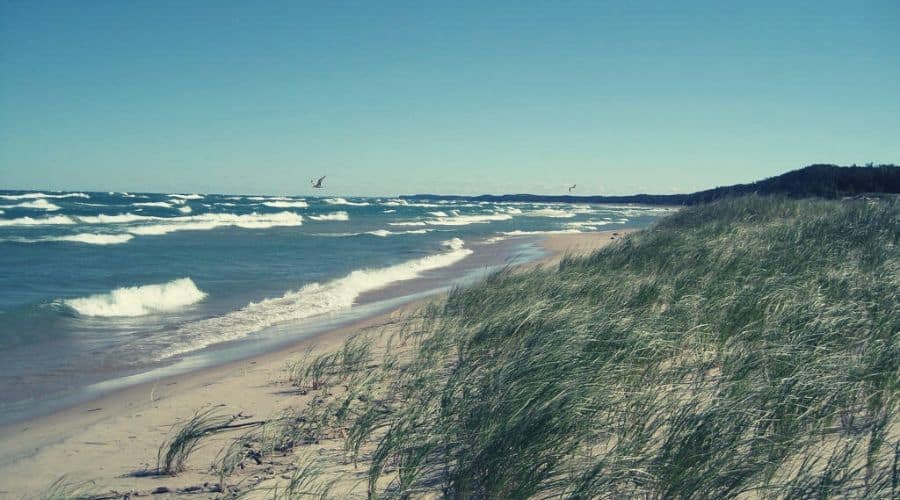 Numerous miles on soft sand, with limited sun protection, can be far more exhausting than similar mileage on a compacted trail. You must, also, contend with the increased potential for blisters if sand makes its way into your shoes.
Planning
Best time of year to hike Nordhouse Dunes
The warm days and cool nights common in late spring and early fall make for the ideal times to explore Nordhouse Dunes Wilderness Area. If you set out to enjoy Lake Michigan's scenic shoreline, here, in July and August, don't expect to be alone. Not only is peak summer a popular time to hike Nordhouse Dunes, but the hot and sunny days can also make for strenuous hiking, particularly on a shoreline where shade is minimal.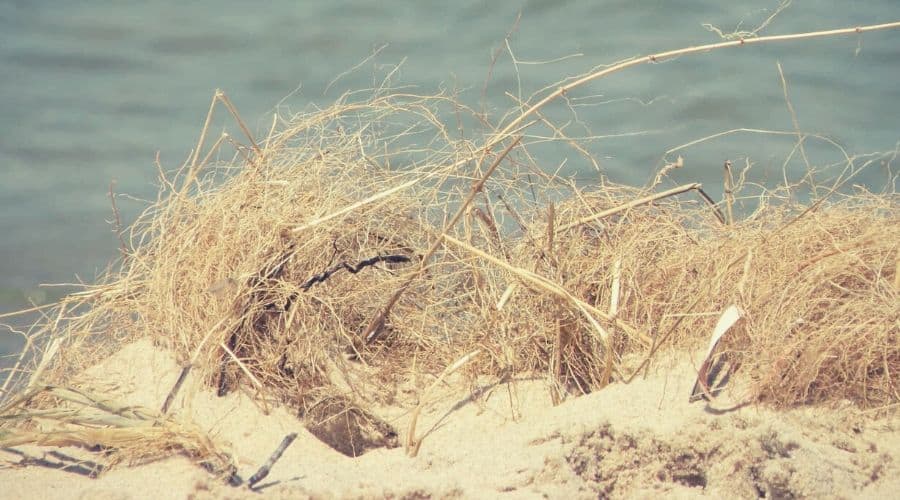 Permits/Fees
You are not required to obtain a permit for day hiking or overnight camping within the wilderness boundary. There is a $5/day ($15/week) recreation enhancement fee, however, collected at, both, the Nurnberg Rd. parking lot and Lake Michigan Recreation Area access points.
Directions to the trailhead
There are, only, two access points for hiking into the dunes. The northern reaches of the wilderness can be accessed from Lake Michigan Recreation Area.
Turn onto W. Forest Trail Rd. directly off Route 31 and follow it for 6.5 miles. Continue driving past the campground until you reach the parking lot, adjacent to the boardwalks and informational kiosk. This is where your hike will begin.
Nordhouse Dunes Hiking Trail Routes
Thanks to the intricate network of trails and old logging roads within the Nordhouse Dunes Wilderness, there are numerous options for, both, day hiking and overnight backpacking adventures.
Below, we will describe three popular options for exploring Nordhouse Dunes. The route that will make the most sense for you will, likely, depend on your allotted time in the area and/or your level of fitness.
6.5-mile loop hike (day or overnight)
This 6.5-mile loop is our favorite way to experience the full diversity of Nordhouse Dunes. Suitable as a day or overnight trip, this loop will take you through towering pine, juniper & hemlock forests, undeveloped shoreline along Lake Michigan, and the namesake dunes that are big enough to swallow large buildings!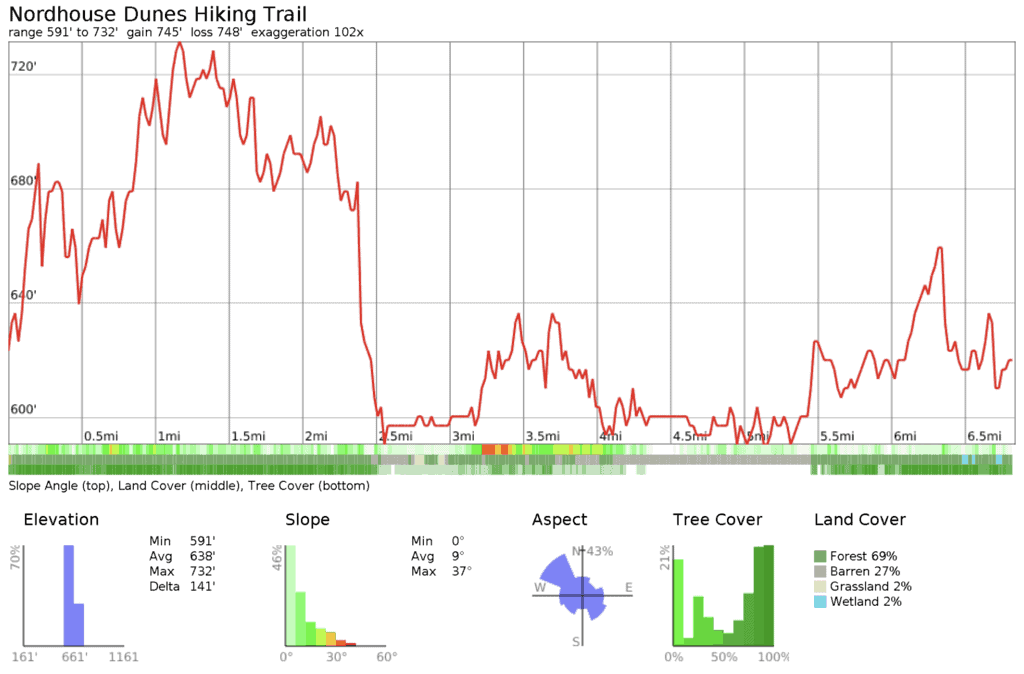 Beginning on the boardwalk by the information kiosk, take the left-leaning option that takes you toward the impending bluff next to the lake's shoreline. For, almost, two miles you will walk the unique line of two ecosystems colliding. On your left will be dense hardwood forest, where budding naturalists can look to identify maple, oak, hemlock, pine, and birch trees. On your right will be the iconic allure of Lake Michigan's undisturbed shoreline and blue water horizon.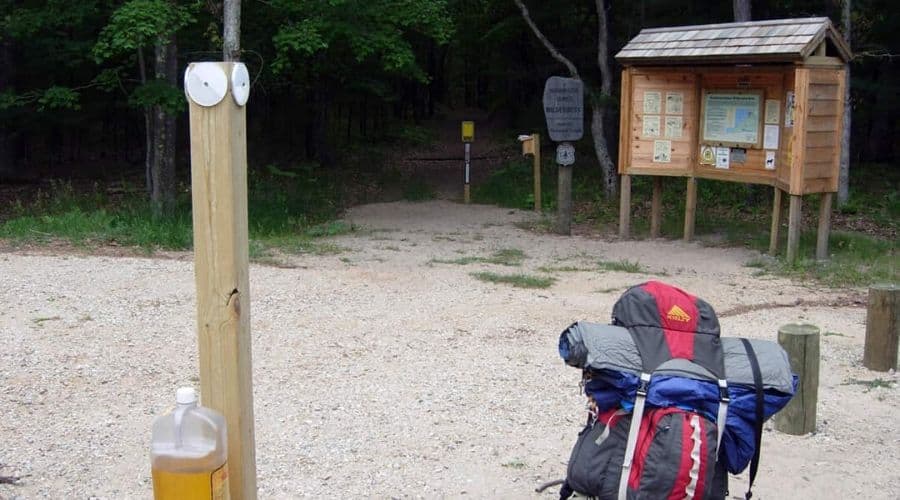 *Route Note: Be on the lookout for the following trail intersections that can help confirm your location. They can, also, be great options for those who are looking for a shorter loop than what is described here.
Mile 0.4 – Arrowhead Trail
Mile 1.0 – Spur trail options for returning to Lake Michigan Recreation Area camping sites, parking at the boardwalk, or Nordhouse Lake
Mile 1.1 – trail leading to Nurnberg Rd. parking area
Mile 1.8 – 4th trail junction of the day that you will take (turning left) to continue on this 6.5-mile loop
Exit the shoreline bluffs by turning left at the fourth intersection onto the most obvious path, an old logging road. Enjoy a reprieve from the sun exposure as you wind your way up and back down a bluff above a small marsh and pond.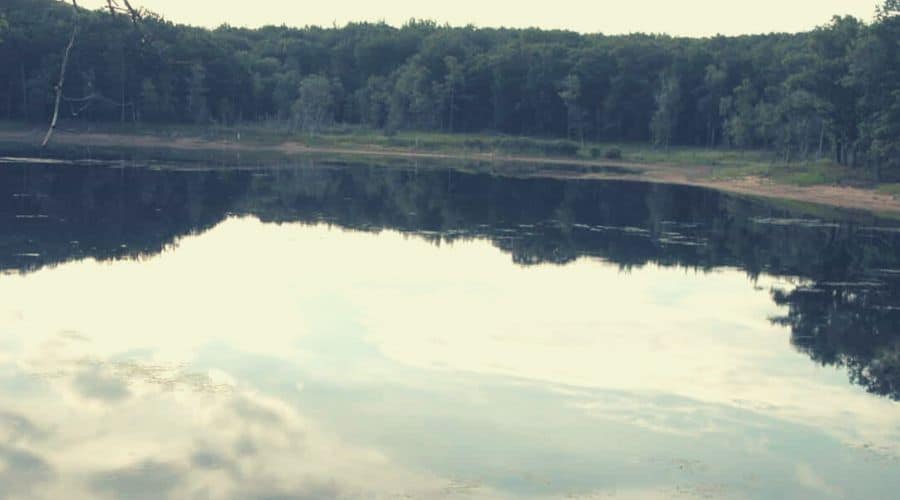 You will soon descend into the parking lot at the end of Nurnberg Road. If you need a bathroom break, look for one of the vault toilets before continuing onto the wide path at the north end of the parking area. The final 2.9 miles of trail feature enjoyable ridgeline hiking that returns you to the boardwalk from where you began.
Best Day Hike Options For Nordhouse Dunes
For the quickest access to Lake Michigan shoreline and the notorious dunes, start your hike from the same parking area at Lake Michigan Recreation area, as described above. You can choose to take the boardwalk straight to the beach or head up onto the bluff, which will take you into the designated wilderness area.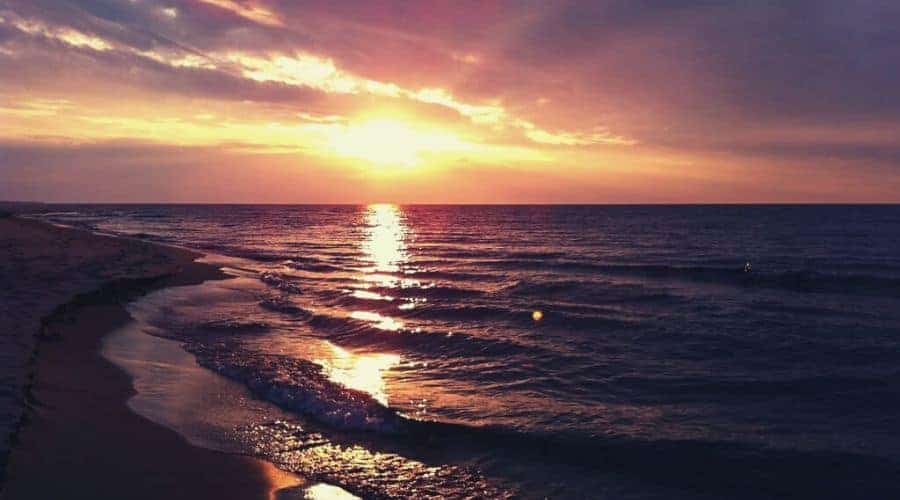 For most day hikes, however, we recommend parking at the Nurnberg Rd. lot. Accessing the dunes and sandy beaches beneath from the trail, here, will require a few extra miles of hiking, compared to the above approach, however, it adds considerable diversity.
Nordhouse Dunes and Big Sable Point Lighthouse
Experienced hikers and backpackers who are capable of higher mileage days and looking for an additional landmark to include on their trip may consider adding Big Sable Lighthouse to their adventure.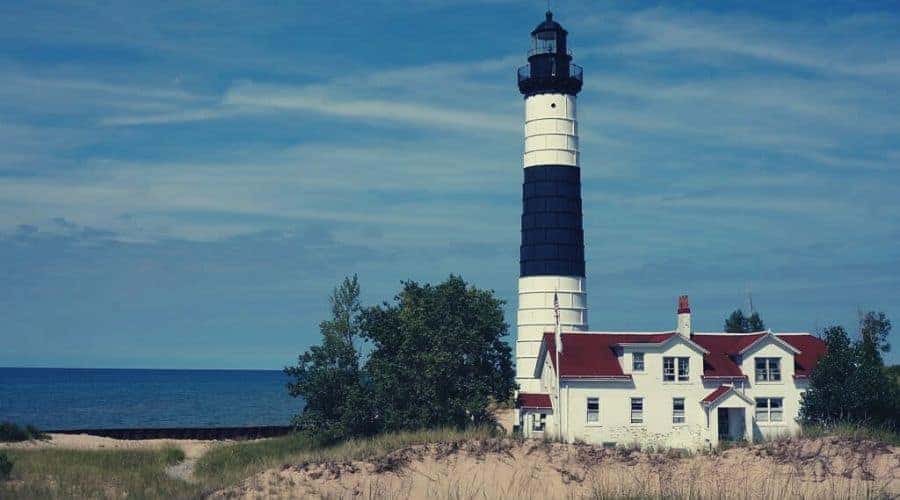 This lighthouse, honored in 2013 as a Featured Lighthouse of the Year, is located within Ludington State Park, which borders Nordhouse Dunes to the south. Hikers can continue south along the beach from the fourth trail junction listed above for approximately 4 miles until reaching the lighthouse.
It should be noted that after two miles, you are within the state park boundary and backcountry camping is no longer permitted. Additionally, this entire section is trailless. Navigation to the lighthouse is accomplished by walking along the compacted sand (easier footing) closest to the lapping water of Lake Michigan.
Good to Know
Campsite regulations for overnight visitors
Must be at least 400 ft. from the Lake Michigan shoreline
At least 250 ft. away from any trail
At least 250 ft. away from Nordhouse Lake
No campfires or bonfires are permitted anywhere on beaches or dunes
Wilderness restrictions applying to all visitors
No motorized or mechanized equipment of any kind
Horses and other livestock are prohibited within the wilderness
Do not collect wood from beaches or shoreline
Hiking with your dog in Nordhouse Dunes Wilderness Area
If you are hoping to share your experience in Nordhouse Dunes with your favorite, four-legged friend, be aware that they must remain leashed at all times. This includes sections where you may be walking along the Lake Michigan shoreline, within the wilderness boundary.
Suggested Gear List
A standard day hiking kit is suitable for most done-in-a-day adventures into Nordhouse Dunes Wilderness Area. Remember, you'll still want to carry the key essentials for hiking and backpacking to ensure that you are prepared for, both, planned and unexpected challenges. Below is a sample checklist of what we might carry for a summertime hike into Nordhouse: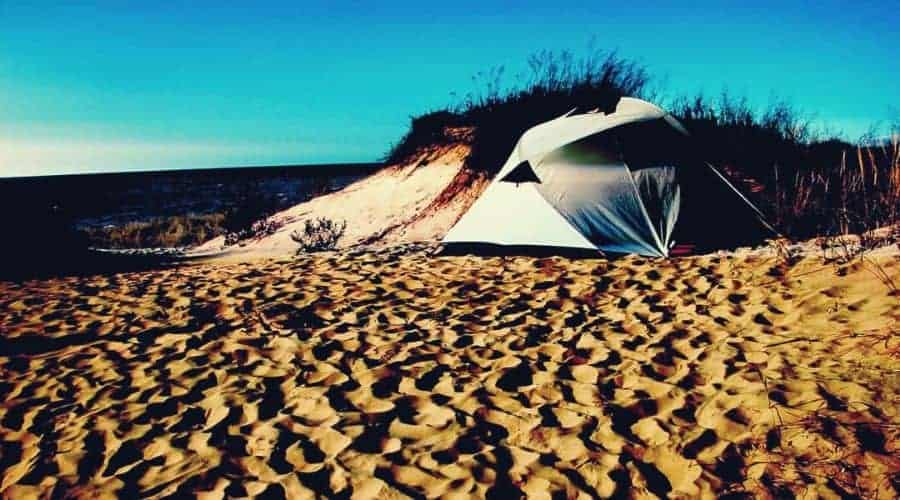 Gear:
Clothing:
Lightweight wind shell – great for the cool breezes experienced during our favorite months in Nordhouse, May, Sept., and Oct. (we love the Patagonia Houdini which is light & packable)
Hiking pants or shorts – nylon and/or spandex is best
Comfortable, quick-dry shirt to hike in – consider a long-sleeved, UV protective option for maximum sun protection while hiking along the exposed bluffs
Your preferred hiking shoes for travel on sandy surfaces – keep in mind the potential for sand granules rubbing against your feet
Food and Water:
Several 200-400 calorie snacks to eat throughout the day – look for food that is suited for hiking or backpacking
For a day hike, plan to carry 2-3 liters of water per person – There are no suitable sources for replenishing water along the trail
Extra Considerations For an Overnight:
Backpacking stove for cooking meals and coffee (yes, waking up with a fresh cup of joe, while sitting on an uninhabited shoreline along Lake Michigan, is as amazing as it sounds!)
An extra tent footprint or section of lightweight Tyvek can be helpful in camp for keeping gear items off of sandy surfaces
Lightweight, backpacking tent or hammock (popular for the forested sections located several hundred feet away from the shoreline)
Sleeping bag rated for 40℉ or below – nights can be cold and breezy even in summer
Nordhouse Dunes Additional Resources
Detailed trail map, as provided by Michigantrailmaps.com
Contribute to the fundraising effort to restore the nearby Big Sable Point Lighthouse, located four miles south of the Nordhouse Dunes boundary