With sunset-colored swirls contrasting against the bright blue sky, it's no surprise this stunning rock formation is one of the most photographed destinations in the Southwest.
Hiking to see The Wave is a bucket list adventure for all types of outdoor enthusiasts. Located within the Paria Canyon-Vermilion Cliffs Wilderness, The Wave's unique swirling sandstone patterns attract thousands of visitors each year and is a sight you won't soon forget.
Whether it's the surreal geological formations or the serenity of the remote location, trekking through this spectacular landscape is a one-of-a-kind experience.
To help preserve this beautiful, yet fragile environment, hard-to-get hiking permits are required to access The Wave. In this guide, we give you all the information you need for this awe-inspiring adventure, including how to get that permit, what to wear, how to get there, and a stage-by-stage trail description.
Key Takeaways
Plan Well in Advance – You need to apply for a very competitive Coyote Buttes North permit
Two Ways to Get a Lottery Win – Walk-in permit lottery was abolished in 2022, but you now have the Advance Online Lottery and Daily Lottery to choose from
Bring Plenty of Water – Carry at least 1 gallon of water per person
Navigational Skills Required – Bring a GPS or compass for the unmarked trail
the Arizona Wave Trail
With sunset-colored swirls contrasting against the bright blue sky, it's no surprise this stunning rock formation is one of the most photographed destinations in the Southwest.
Hiking to see The Wave in Arizona is a bucket list adventure for all types of outdoor enthusiasts. Located within the Paria Canyon-Vermilion Cliffs Wilderness, The Wave's unique swirling sandstone patterns attract thousands of visitors each year and is a sight you won't soon forget.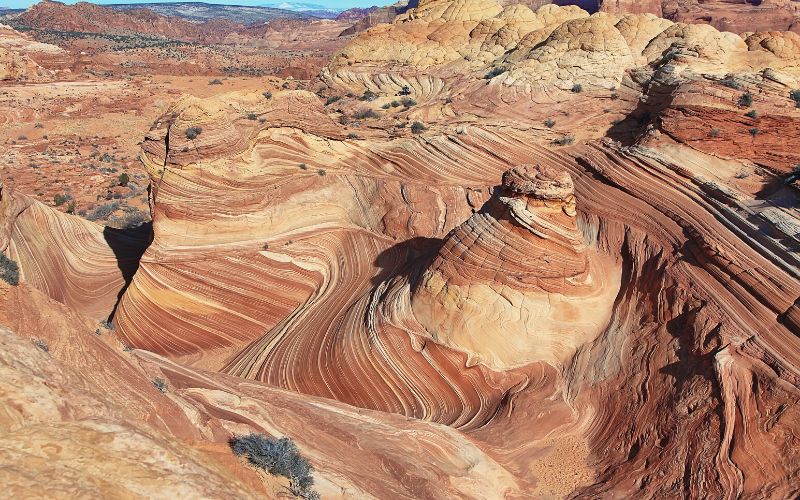 Whether it's the surreal geological formations or the serenity of the remote location, trekking through this spectacular landscape is a one-of-a-kind experience.
To help preserve this beautiful, yet fragile environment, hard-to-get hiking permits are required to access The Wave. In this guide, we give you all the information you need for this awe-inspiring adventure, including how to get that permit, what to wear, how to get there, and a stage-by-stage trail description.
The Wave: Overview and Trails Basics
The Wave is a visually-striking sandstone rock formation found in the Coyote Buttes North region of the Paria Canyon-Vermilion Cliffs Wilderness along the Utah-Arizona border. This wilderness area is also home to Buckskin Gulch, one of the longest continuous slot canyons in the world, and home to one of the top hikes in Utah itself.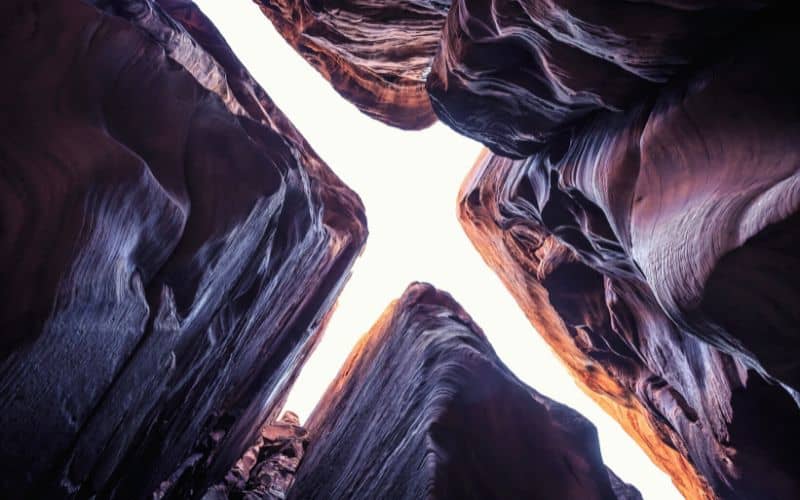 This world-famous trek is famous for its undulating sandstone patterns formed millions of years ago. What was once ancient sand dunes have become hard sandstone rocks with breathtaking red and yellow bands swirling through them. These mesmerizing rock formations are now one of the country's most well-known natural wonders.
Most visitors only go out to see The Wave, but there are many other amazing things to see on this hike, including fossilized dinosaur tracks and more stunning rock formations like The Second Wave, Top Rock Arch, Melody Arch, The Alcove, Sand Cove, and Fatali's Boneyard.
Although the trailhead for The Wave is located in southern Utah, The Wave itself is situated just across the state line in northern Arizona. It is located between Kanab, Utah, and Page, Arizona, a little over an hour's drive from each town.
The out-and-back trail from the Wire Pass Trailhead to The Wave is a moderate difficulty 6.4-mile round trip. The undeveloped route through a wilderness area with sandy and rocky terrain that requires navigational skills makes it more challenging than most. It takes the average hiker about three to four hours to complete.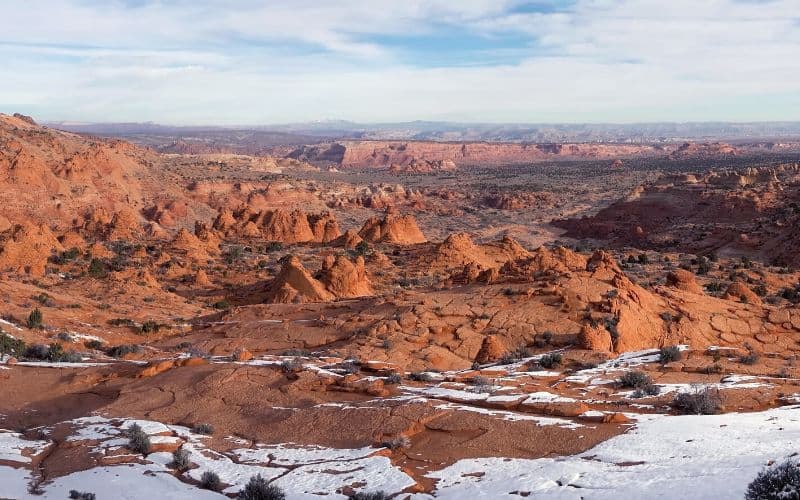 The best time to visit is during the spring or fall when the weather isn't as hot as the summer months and there's no snow.
Access to the area is restricted to help protect the sensitive sandstone and preserve the landscape. A Wave permit from the BLM (Bureau of Land Management) is required to hike to The Wave and only a limited number are issued per day. Thousands of people apply to visit every year, but only a few are granted permission.
The Wave is a popular destination for outdoor enthusiasts and photographers seeking a remote adventure to one of Arizona's most fascinating geologic formations.
How to Get Wave Permits: The Wave Lottery
To help protect this primitive wilderness area and reduce the impact on the fragile rock formations, the BLM limits entry to The Wave in Coyote Buttes (Vermilion Cliffs National Monument) via a permit lottery system.
This means that permits are required for all visitors to The Wave, which is located in Coyote Buttes North. Only a limited number of lottery permits are issued for each day, making this a highly-coveted outdoor adventure.
Getting a hiking permit for BLM Coyote Buttes North can be very difficult, but with the right information and advanced planning, you might just be able to win the lottery or daily in-person lottery for this elusive experience.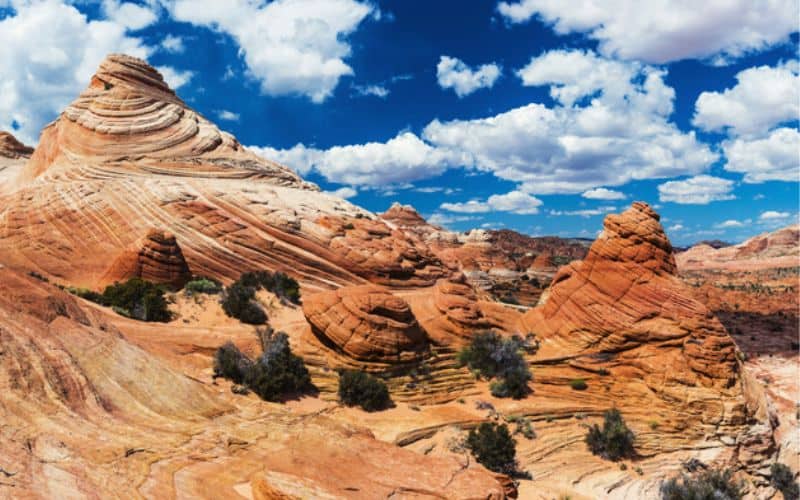 There are only two ways to secure a hiking permit: the Advanced Lottery and the Daily Lottery. The Advance Lottery requires planning ahead and selecting your trip date at least four months in advance. You have to list the members of your group and alternate permit holders in case anyone changes plans.
The Daily Lottery works best for last-minute trips or for those who are unable to obtain a permit through the Advanced Lottery. There is a non-refundable fee for the application, which you must pay even if you don't get a permit.
Although there used to be a walk-in lottery system, that was eliminated as of March 2022 and replaced with the Daily Lottery.
Permits are limited to only 64 visitors (or 16 groups) per day, 48 people from the Advanced Lottery and 16 people from the Daily Lottery. All visitors must have a hiking permit, including infants of any age. Groups are limited to no more than six people. Joining up with another group of people on a separate permit is prohibited. Dogs must be mentioned on the permit and they carry an additional fee.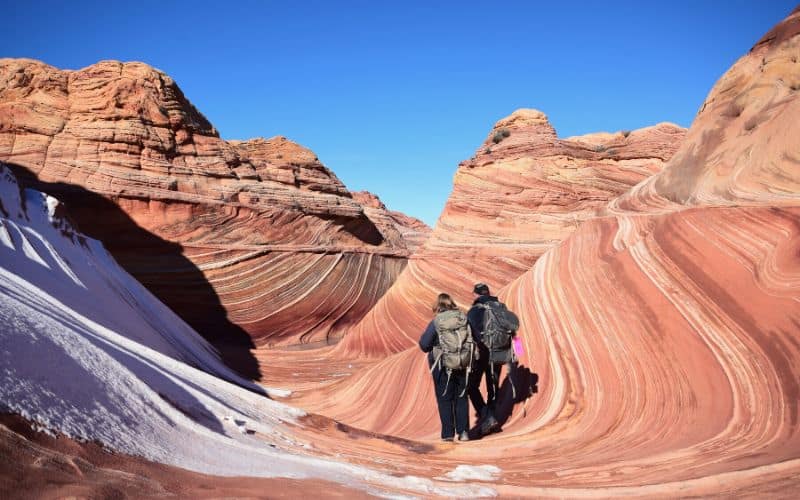 In 2018, there were 200,589 aspiring visitors applying for the 7,300 available permits, meaning just 3.6% were granted one. We weren't kidding when we said these permits are hard to get!
It's generally harder to get a permit during the peak hiking seasons in spring and fall. For the best chance of scoring one, try visiting in the summer (be prepared for extreme heat!) or during the winter. Keep in mind that it does snow, so The Wave's vibrant colors might be covered by a blanket of white stuff.
To increase your chances of getting a permit, let's go over everything you need to know about BLM's Coyote Buttes online lottery system.
Advanced Lottery
The Advanced Lottery requires you to set a date for your trip four months before you plan on visiting. If you can plan your trip four months in advance, you can apply for the Advanced Lottery here.
Applications for permits are available starting on the first day of the month that is four months before your hiking date at noon Mountain Time. For example, if you want to hike in May, you need to apply between January 1 to 31. You can select up to three different hiking dates during your permit application.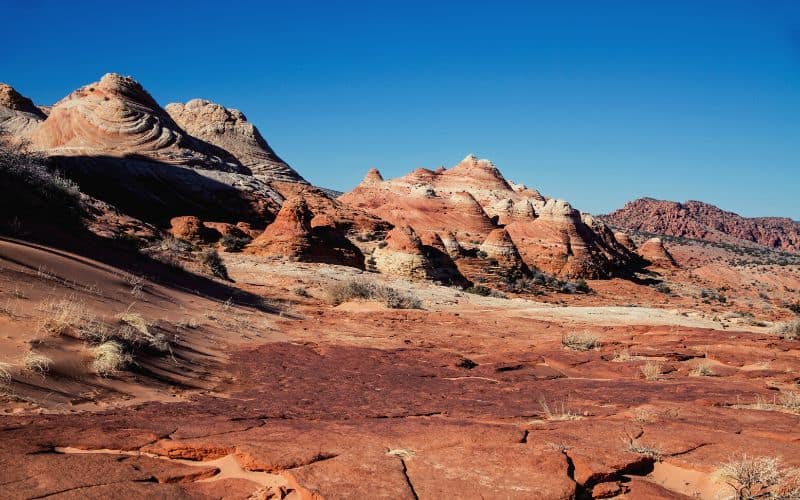 The lottery results are announced on the first day of the following month. In our example, that would be February 1 at 9 am MST. If you are lucky enough to get a permit, you'll get an email to confirm and pay for your permit online. You have up to 14 days to confirm you still want your permit, if you don't confirm during this time you will lose it.
Once you have a permit, you cannot make any changes to the dates, applicant names, listed alternate permit holders, or group sizes. There are no refunds and they are non-transferable.
Daily Lottery
With the Daily Lottery, you can apply for a permit two days before your trek. This works as a backup option for those who weren't able to get a permit in the Advanced Lottery or for any spontaneous hikers who are already in the area.
The only catch for the Coyote Buttes North Daily Lottery is that you must be located within a specific geographic zone close to The Wave when you apply. The mobile-based geofence permit system can only be accessed by visitors physically present inside the geofence perimeter. The geofenced Daily Lottery area covers portions of both Arizona and Utah, including Page and Kanab.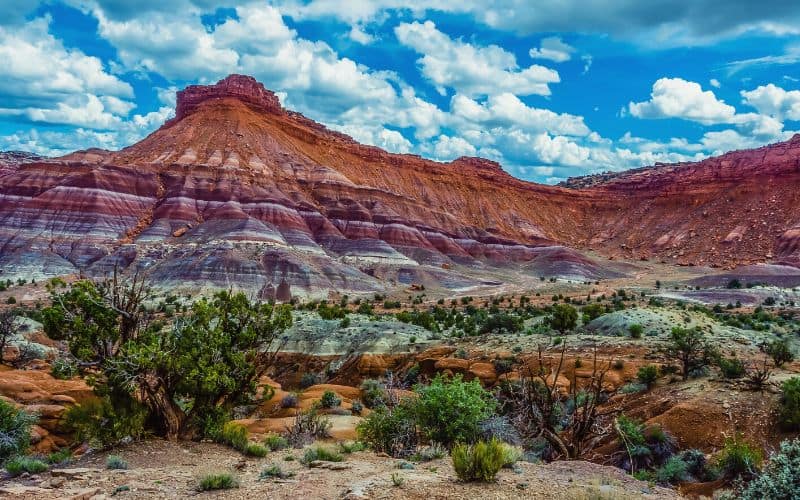 To apply for the Daily Online Lottery, download the Recreation.gov app or use your mobile device's browser. You must use a phone or tablet with location services on to apply so they can verify your proximity. It's not accessible via desktops. Although you must be inside of the perimeter to apply, you can confirm and pay for the permit from anywhere outside of the geofence.
If you do get a permit, you need to confirm you still want it before 8 am the next day. On that same day, you have to go pay for the permit and pick it up in person at 8:30 am at either the Kanab, Utah, or Page, Arizona facilities.
Nearby Alternatives to The Wave Arizona Hike
While getting hiking permits for The Wave is at the top of most hikers' bucket lists, the reality is that they are extremely difficult to obtain. If you aren't lucky enough to secure a permit through either of the online lottery systems, consider trying one of the many amazing hikes nearby, all of which have spectacular views of the desert and interesting geological formations.
Coyote Buttes North and Coyote Buttes South both make up just a small region of the Paria Canyon-Vermilion Cliffs Wilderness' 112,500 acres of protected land.
The Coyote Buttes South offers similar sandstone formations and sweeping views of the desert. Visiting Coyote Buttes South is a great alternative to The Wave because it is much less popular and permits for this area are easier to get.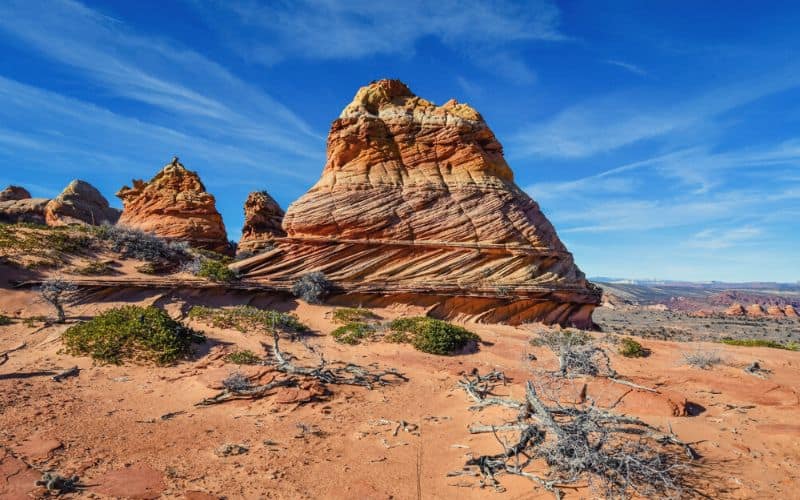 There are no designated hiking trails in this wilderness area. Hikers visiting Coyote Buttes South can enjoy venturing out into the remote desert areas and forging their paths with only a few people around. This backcountry hiking involves trekking through deep sand and requires good navigational skills.
Pawhole Trailhead is a popular place to begin your adventure. From here, you can reach beautiful red rock formations and venture a bit further north to the Southern Alcove and Yellow Stripe areas.
The nearby Cottonwood Cove Trailhead offers access to scenic views of more unique formations like the Control Tower, Witches Hat, and Half and Half. The roads to both of these trailheads are rough and four-wheel drive is highly recommended to reach them.
What You'll Need to Hike The Wave: Gear and Clothing
Although The Wave trail is not a very long hike, the hot desert climate and sandy, rocky terrain can make it a challenge. Hiking this route necessitates proper preparation, clothing, and gear for a successful, safe, and comfortable hike through the harsh environment.
There are no natural water sources and no water at access points, so carrying plenty of water is essential. Desert hikes, especially in peak sun, can be extremely dehydrating. The BLM recommends hikers bring at least one gallon of water per person per day.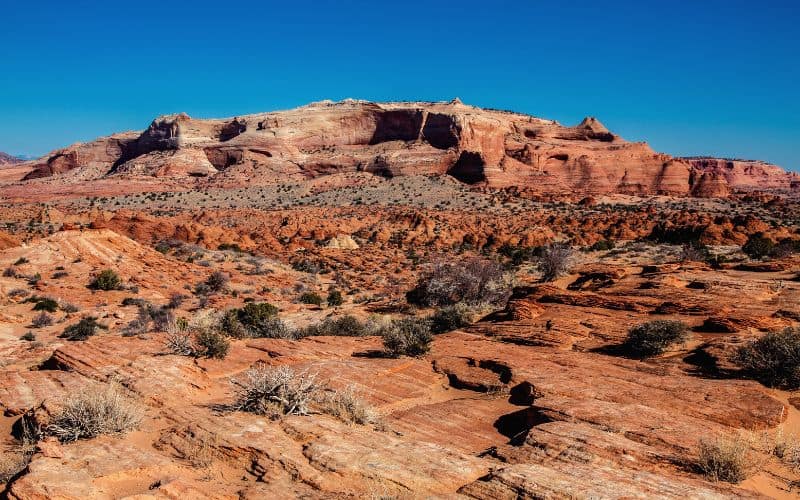 The desert sun can be intense, so it's crucial to protect yourself from the sun, especially in the hot summer months. Put on a wide-brimmed sun hat, sunglasses, and slather on sunscreen.
Wear sturdy hiking shoes or boots with good traction. The trail's rugged terrain ranges from deep sand to steep walls to slippery rocks.
Temperatures in the Arizona desert can vary greatly throughout the day, especially in the summer and winter months. While lightweight and breathable clothing is best for the hotter weather, a warm jacket, and layers might be necessary for snowy winters. Depending on the time of year, you might need a rain jacket, a long-sleeve SPF shirt, a puffy jacket, or all these!
The trail is not well-marked so you'll need to carry a compass, map, and/or GPS device to help you stay on route and navigate back to the trailhead. BLM will provide a detailed hiking map once you receive your permit.
Bring a comfortable hiking daypack to carry your water, snacks, layers of clothing, a first-aid kit, and any other gear during your trip.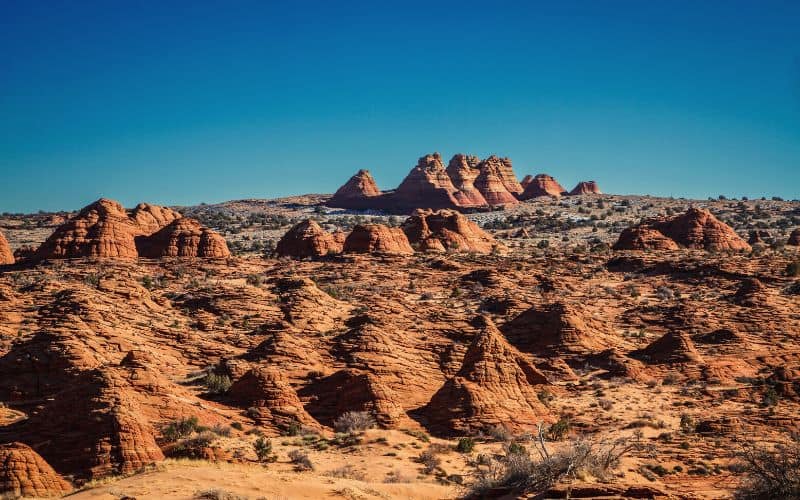 How Difficult is The Wave Hike?
The Wave hike is considered a moderate-difficult trek with about 500 feet of elevation gain. It's a little over 6 miles round trip out and back to the trailhead along the most direct route. It takes the majority of hikers about three to four hours to complete. Visitors exploring the surrounding attractions in Coyote Buttes North will add some mileage and time to their trip.
Although most regular hikers would rate this as a moderate trek, the difficulty level depends on a few different factors. Your fitness level, navigational skills, hiking abilities, and the local weather conditions are several things that can increase difficulty.
A challenging aspect of this trek is the rugged desert terrain with steep ridges and soft sand. The path has portions that are rocky, slippery, and uphill. You should be able to deal well with uneven surfaces and have good balance. Hikers with knee problems or hip injuries may have a hard time with the awkward terrain.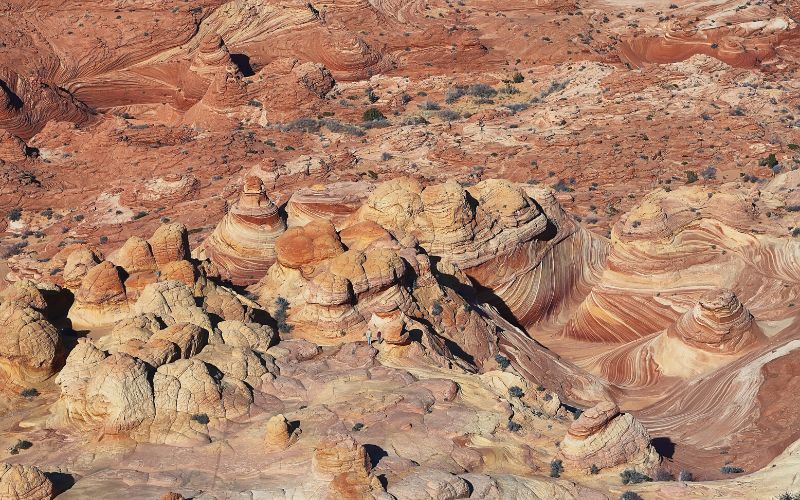 The weather in Coyote Buttes North ranges from above 100 degrees Fahrenheit in late summer to below-freezing in the winter. Always check the weather for the day of your trek and be prepared with plenty of water. To prevent your risk of dehydration and heat stroke, avoid hiking during the hottest time of the day.
One of the toughest things about hiking in this wilderness area is the lack of designated trails. The trail is hardly marked so you need to know how to find your way with the help of a compass and map or GPS device.
Visitors coming from sea level may feel a bit lethargic or out of breath due to the area's 5,225 feet elevation. Take it slow and steady on your hike or take a few days to acclimate beforehand if you're sensitive to higher elevations.
You should know that some people have died while attempting this trek. But most of these people were unprepared for desert hiking along undesignated trails.
Overall, a trek to The Wave isn't too difficult as long as you have some navigational skills, good balance, physical conditioning, and the proper gear.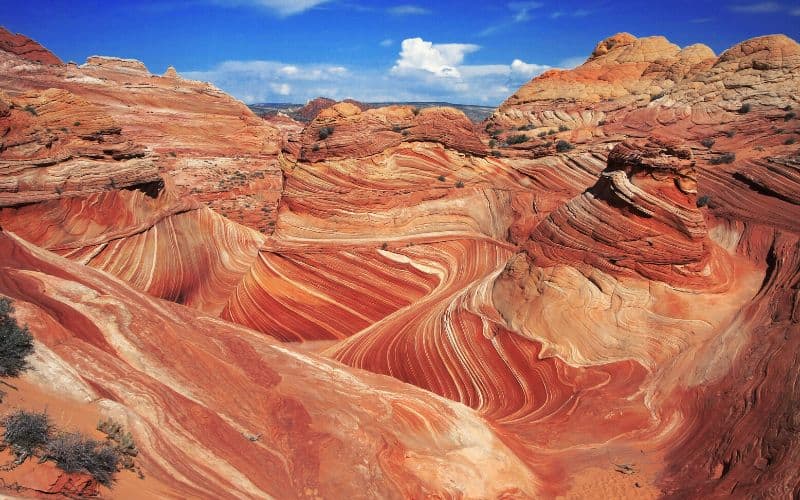 How to Get to Wire Pass Trailhead: Road and Parking Info
Wire Pass Trailhead is located in southern Utah and provides access to The Wave in northern Arizona. The trailhead also leads to Paria Canyon and Buckskin Gulch, two other popular destinations in the Paria Canyon-Vermilion Cliffs Wilderness.
The closest major airport to The Wave is Las Vegas McCarran in Nevada, but there's a smaller regional airport in St. George, Utah that is closer at about 88 miles away.
The Wire Pass Trailhead is located off House Rock Valley Road, a dirt road accessible from Highway 89. The trailhead is approximately 47 miles east of Kanab, UT, and 44 miles west of Page, AZ.
To get to Wire Pass Trailhead, drive along Highway 89 until you reach House Rock Valley Road. It's a 37-mile drive east from Kanab and a 36-mile drive west from Page to the exit. Once you reach House Rock Valley Road, turn south and drive about 8.3 miles until you reach the trailhead parking area on the right side of the road.
House Rock Valley Road is unpaved and minimally maintained. Although it's usually possible to reach the trailhead with a two-wheel drive, high-clearance vehicle, this may not always be the case.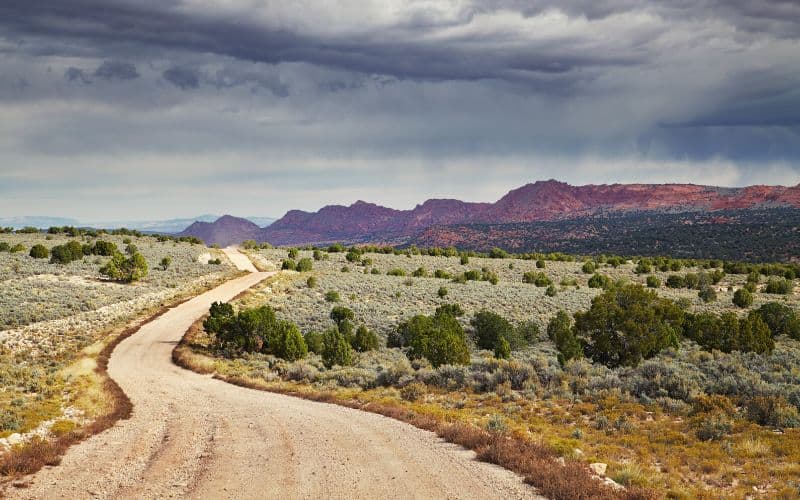 The road is extremely difficult to drive on and sometimes impassable during inclement weather. It can become flooded or slick with clay mud during the rainy season and iced over in the winter months. Even four-wheel drive vehicles with high clearance can have issues driving this route when conditions are bad.
Always check the weather before your trip, make sure your vehicle is capable of driving on rough dirt roads, and come prepared with enough water and food for emergencies along this remote stretch of land.
The Wire Pass parking area is small, so try to arrive early on holidays or weekends during peak hiking seasons to secure a spot. You can also park along the side of the dirt road if the parking lot is full. The good news is that you'll already have a parking pass because it's included when you buy your permit.
The parking lot has vault toilets, but no drinking water or any other amenities. Although overnight dry camping is allowed in this lot, there is an official campground located another mile south along the road.
The Wave: Stage-by-Stage Description
So you were lucky enough to get a permit, the road to the trailhead was passable, and you've finally made it to the parking area. Ready to hit the trail? Here's a stage-by-stage description of this epic hike in Arizona.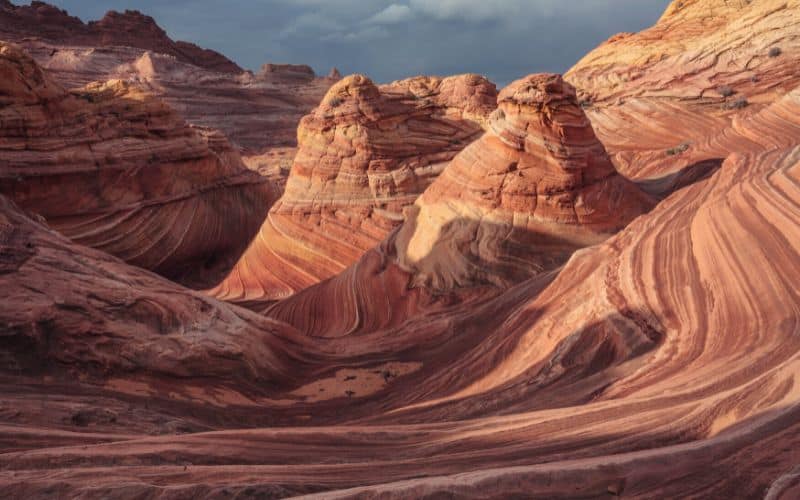 Stage One: Registration and Trailhead
Once you find a parking spot, place your parking pass on your dashboard and double-check you have everything you need before heading out.
To begin your hike, sign in at the trailhead register, listen to the ranger's safety talk and navigation instructions, and grab a trail map. Cross House Rock Road and hop on the heavily trodden dirt path for about 150 feet to reach Wire Pass Wash.
Stage Two: Wire Pass Wash
Wire Pass Wash connects to Buckskin Gulch, the longest slot canyon in the United States. Follow the wash northeast for about a half-mile until you see one of the area's few trail signs marking the entrance to the Coyote Buttes North area. Turn right at the marker to follow the path uphill.
Here you'll cross an area filled with sage plants and cross another wash. This wash feeds into the Wire Pass slot canyon less than a mile downstream. It's about 0.65 miles from the beginning of the sage field to the second river wash. From here, climb up the slick rock to a saddle that sometimes has a cairn.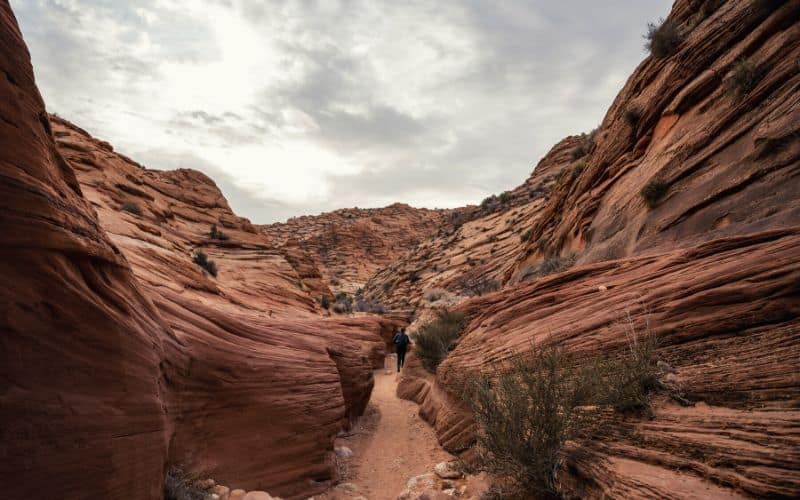 Stage Three: The Saddle
If you are carrying a GPS device, this is a good spot to mark. After the saddle, you may see rock cairns along the way, but they aren't always accurate. Look for the BLM trail sign about 150 feet east of the saddle and make note of it because this is where you'll turn west on your return hike.
Head south from the saddle for about 0.35 miles until you see the buttes up head in the distance. Once over the ridge, the land opens out and the terrain changes to a large area of sand and slick rock. You'll see a high ridge to the right which is the northern boundary of Coyote Buttes.
On the left, there's a mass of red rocks which rise to a mesa along the side of Buckskin Gulch. In between these, you'll see a large expanse of sand with some scattered sandstone domes in the middle.
Stage Four: Twin Buttes
Look for the twin buttes in the middle and walk towards them. Less than two miles away, left of the main ridge, you'll see a division in the rock wall. Walk south towards the division in the cliffs ahead. You'll hike along steep rocky slopes just below the main ridge and cross another wash. Continue walking towards the crack in the rock wall until you reach sand dunes.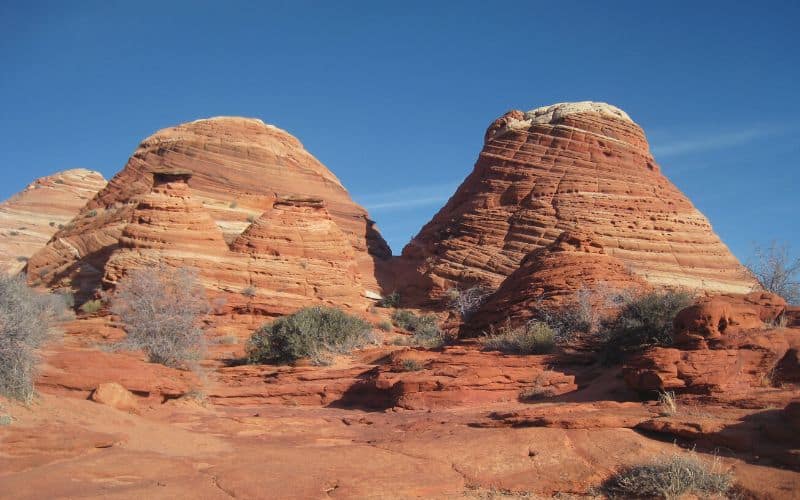 Stage Five: Cross the Dune
Hike up the sand dune to continue hiking toward the crevice in the rock. There's usually a clear trail along the sand unless heavy winds have erased it. You'll pass by another wash before climbing up to arrive at the area's otherworldly landscapes.
Stage Six: The Wave
Once you've arrived at the famous sandstone rock formations, take in the stunning views of this unique landscape. The Wave is found at the foot of Top Rock's northwestern slope and near a small ravine.
Keep an eye out for the particularly picturesque spot seen in most of the photos of The Wave. It's a giant undulation of vibrant reds, oranges, and yellows swirling through the sandstone walls and ground. This is an extremely popular spot for photography, with many people competing for the perfect photo, so come prepared with a little patience to get your shot.
For an interesting photo opportunity, look for the pools of water usually located southeast of The Wave. The reflection of the sky above the bright red rocks in the pools of water is a spectacular image you won't soon forget.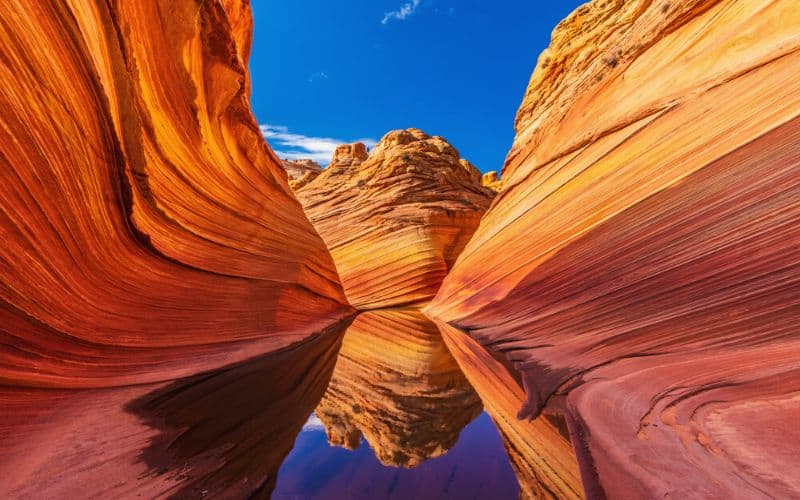 Stage Seven: Explore!
Most hikers end their visit after seeing The Wave and snapping a few photographs. But that's a huge mistake because there's so much more to see here!
Head back down across the sand dune to the wash below. Turn west at the bottom of the dune, cross the wash, and climb up. Here you'll see dinosaur footprints on the red stone next to the wall. The fossilized tracks are about the size of a human hand and have only three toes.
From here, head south to the open area. Look for the brown and yellow lines to the west to see the area with lace rocks called Fatali's Boneyard.
After that, continue down the wash southeast. In about 0.2 miles head directly south into Sand Cove Wash. Follow this wash for about 300 feet and trek up at the teepees on the left to see the sandstone curves at the Sand Cove.
Stage Eight: Second Wave
From Sand Cove, head northeast and climb up the cliff to a flat area. The Second Wave is located at the base of the steep cliff just past the flat area. It's located about 1,000 feet southwest of The Wave and about 100 feet higher.
Wave 2 features curved sandstone with small fins of red and yellow. These are best photographed during the early morning or late afternoon.
If you look east from the main ridge towards the flat sandy landscape, you'll see some sandstone domes sticking out from the earth. The largest ones are known as North and South Teepees.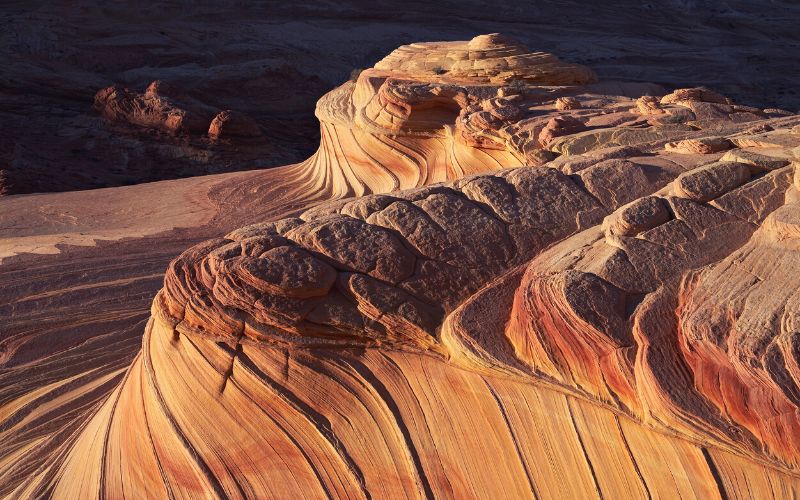 If you continue exploring the area near the Second Wave, you'll find a variety of interesting and unique rock formations and several arches.
Top Rock Arch is perched high above northern Top Rock. You can reach it by climbing the slick rock near Second Wave.
Melody Arch is found about 1,000 feet south of that, past a sandy cove called The Alcove.
Finding the Hourglass Arch is like being on a treasure hunt, but it's a small arch along the rim of some steep cliffs about 900 feet west.
Dicks Arch is considered to be the most beautiful arch in the area. It's a narrow archway along a span of red rocks on the western side of the ridge, located only about 200 feet south of the Utah-Arizona state line.
Stage Nine: Head Back!
To return to the parking area from the Second Wave, head north towards The Wave. Look for the small BLM signposts as you retrace your steps on the way back. As you make your way back to your vehicle, you'll see The Dive and the North and South Teepees in the distance.
The sign near the saddle which you marked earlier on your GPS will tell you where to turn west to cross the ridge. From here, simply retrace your steps back to Wire Pass Wash and the parking lot.
Happy Hiking!
The Wave Arizona hike is a once-in-a-lifetime opportunity to see some of the most unique rock formations in the country.
From the breathtaking natural landscapes to the tranquility of its remote location, this spectacular hike is bound to leave you with a lifetime of memories.
With this permit process information and enough luck to get one of those golden tickets, you'll be out enjoying a hike to The Wave in no time at all!
Did we miss anything important about hiking to The Wave? Let us know in the comments below. If you found this article useful, please share it with your friends.