With thousands of miles of hiking trails and millions of acres of wilderness, California is a backpacker's paradise!
From the towering granite cliffs of Yosemite National Park to the rugged beaches of the Lost Coast, this state is home to some of the most diverse and stunning terrain in the world. The best bit: there are myriad awesome backpacking routes on which you'll get to see all of it up close!
The Golden State's backpacking trails have something for everyone, whether you're looking for a challenging multi-day trek or a relaxing weekend getaway.
In this guide, we're covering the top beginner, intermediate, and advanced backpacking routes in the Golden State. 
Best Beginner Backpacking Trips in California
1. Tuolumne Meadows, Yosemite National Park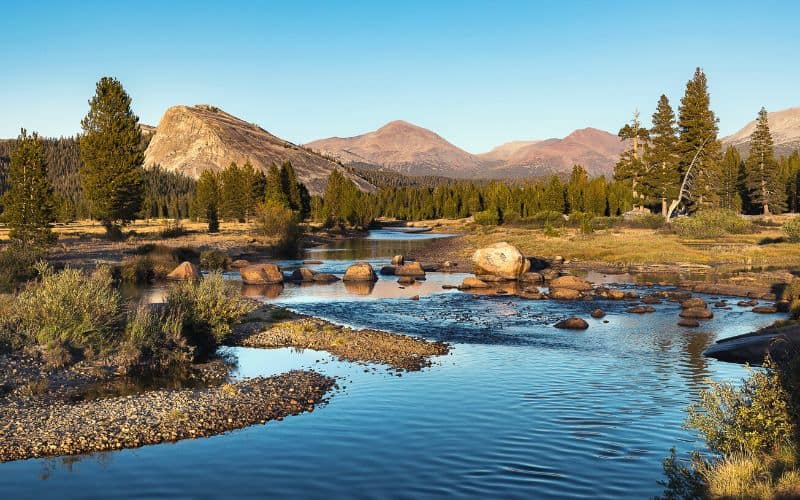 Length: 7 miles
Type: Out-and-Back
At 8,600 feet high, Tuolumne Meadows is one of the largest high-elevation meadows in the Sierra Nevada. It's an incredibly scenic region of Yosemite National Park that is home to a large open area with 3 miles of the Tuolumne River flowing and cascading over the granite bedrock.
There are lodgepole pines scattered throughout the area and a handful of stunning alpine lakes. This tranquil landscape is set against a backdrop of glacial-carved domes and the Cathedral Range's rugged peaks.
The Cathedral Lakes Trail is a popular 7-mile round-trip trek along the famous John Muir Trail. It's a busy route with 1,000 feet of elevation gain and is great for people planning beginner backpacking trips to Yosemite. You could take it on as a day hike, of course, but it's highly unlikely you'll want to leave the beautiful meadows so soon.
On the way to Tuolumne, you'll pass the pristine Upper and Lower Cathedral Lakes, Long Meadow, and Sunrise Lakes, and enjoy stunning vistas of Cathedral Peak and Echo Peak.
This trek begins at Cathedral Lakes trailhead off Tioga Road, about 0.5 miles west of the visitor center. Backpackers need a backcountry permit to stay overnight in this and all other Yosemite NP wilderness areas.
2. Point Reyes Coastal Loop, Point Reyes National Seashore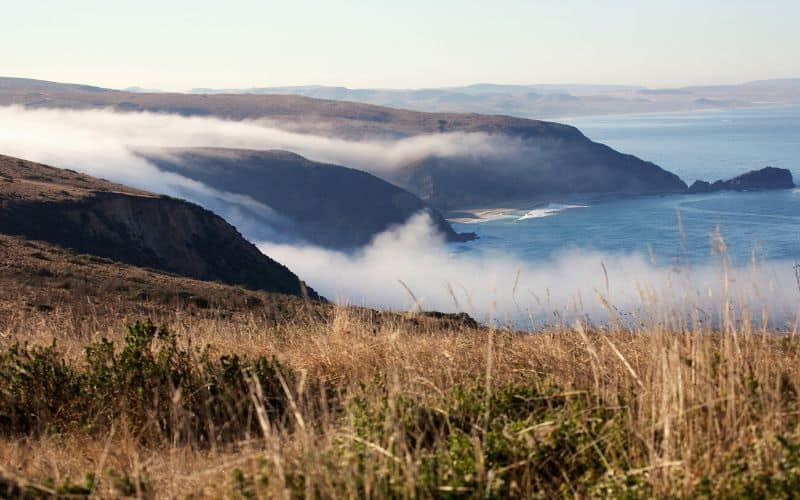 Length: 6 miles
Type: Loop
Point Reyes National Seashore features 80 miles of Pacific Ocean shoreline in Northern California's Marin County. This protected area is only 30 miles north of San Francisco, making it the perfect overnight trip from the city.
The national seashore extends inland to valleys and mountains covered with coastal scrub, Bishop pines, and Douglas firs. There are plenty of opportunities to view the local wildlife here, including elephant seals, whales, and sea lions in the ocean, and elk, deer, and coyotes on land.
The Point Reyes Coastal Loop, also known as the Laguna-Coast Loop, is a gorgeous trek through several of the region's ecosystems like coastal scrub and coastal grasslands. And, of course, be prepared for some epic ocean views!
The Laguna-Coast Loop starts at the Laguna Trailhead and leads directly into the Phillip Burton Wilderness. From here, the path follows the southern end of the Laguna Trail until it reaches a ridge crest with beautiful views of Drakes Bay.
Then the route turns onto the Coast Trail to Coast Campground. You can pitch your tent at this backcountry campsite and head down to Santa Maria Beach for spectacular sunset views before heading back the next day.
3. Lassen Volcano Loop, Lassen Volcanic National Park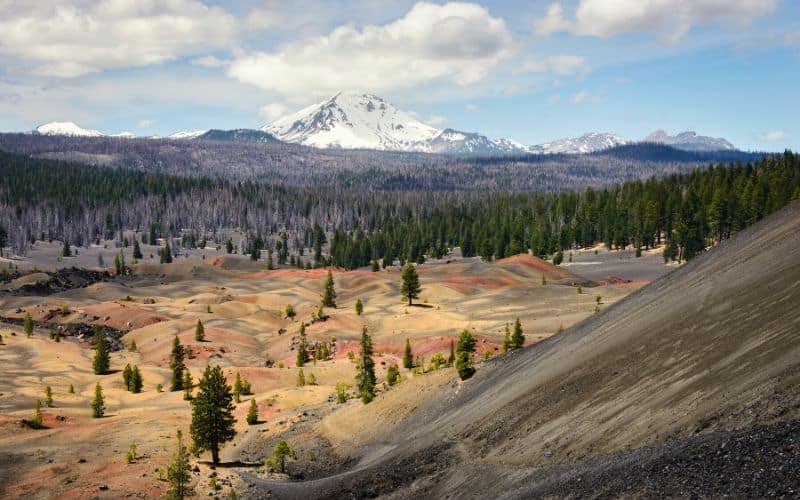 Length: 24 miles
Type: Loop
Located in northeastern California, Lassen Volcanic National Park has the unique distinction of being one of the only places on earth with all four types of volcanoes: plug dome, shield, cinder cone, and stratovolcano. It's home to the world's largest plug dome volcano, Lassen Peak, which is also the southernmost volcano in the Cascade Mountains.
Lassen Volcanic National Park has unique and sometimes stark landscapes featuring wildflower-covered meadows, steaming fumaroles, and alpine lakes nestled amongst the volcanic peaks.
The Lassen Volcano Loop is a 24-mile loop with 4,000 feet of elevation gain. This is an excellent option for beginners looking for adventure on a less well-traveled trail. This trek winds past crystal-clear high-elevation lakes and ascends to the top of a cinder cone volcano.
A permit is required for backcountry camping. The best time to visit for a backpacking trip is in the summer once the snow has melted or in early fall before winter begins.
4. Big Pine Lakes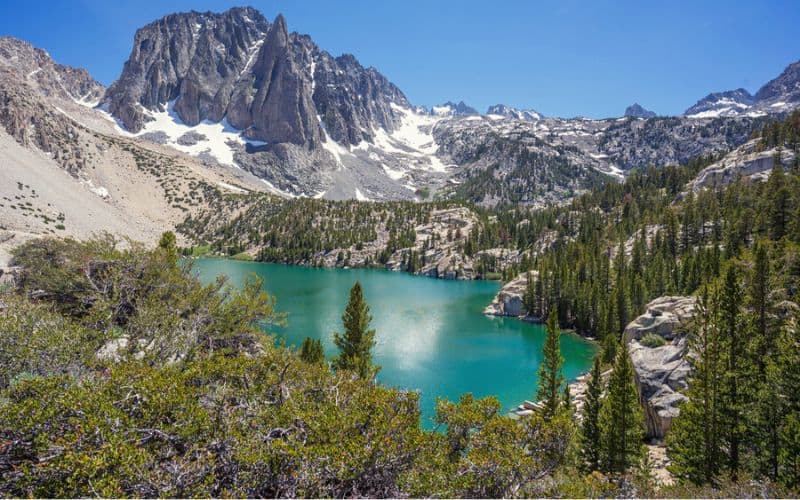 Length: 15.2 miles
Type: Out-and-Back
Breathtaking views of glacial lakes, alpine forests, and snowy peaks await you on this incredible trek through the John Muir Wilderness region of the Eastern Sierra. This part of the Inyo National Forest is home to acres of pristine wilderness with epic mountain views.
The Big Pine Creek North Fork Trail, commonly called Big Pine Lakes Trail, is a spectacular hike to a series of seven turquoise-colored glacial lakes located 10,000 feet above sea level. This trek is a must-visit for anyone looking to experience the rugged beauty of the Eastern Sierra on a backpacking trip.
The Big Pine Lakes out-and-back trail begins at the end of Glacier Lodge Road. The path climbs up steadily until it reaches the first of the Big Pine lakes. Trek on to Second Lake (10,000 feet) for epic views of the turquoise-colored water with Temple Crag as the backdrop. Third Lake is just a short walk from there.
You'll find several backcountry campsites scattered around these first three lakes. Backpackers can park at the paved overnight parking lot just west of Upper Sage Flat Campground. You'll need a wilderness permit to stay the night by the lakes.
5. Devil's Punchbowl, Six Rivers National Forest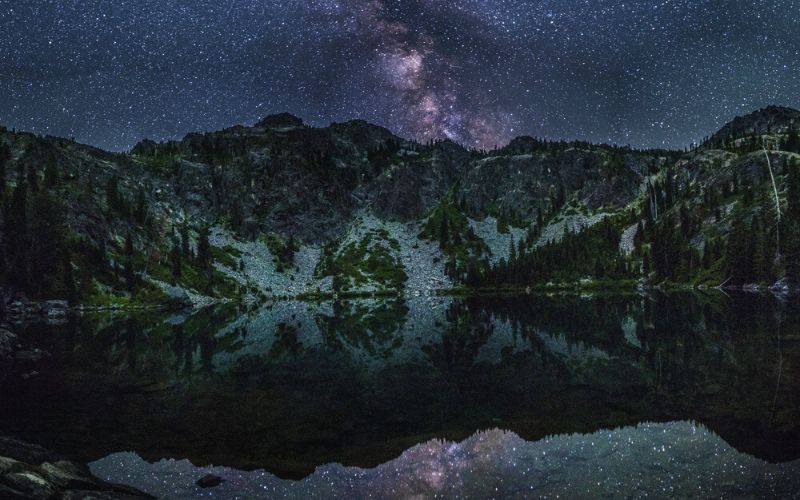 Length: 10 miles
Type: Out-and-Back
Six Rivers National Forest encompasses nearly 1 million acres stretching from the California-Oregon state line to Mendocino County, about 140 miles south. It's home to diverse ecosystems like snowy mountain peaks, open grasslands, and winding rivers – six of them in total, as the forest's name suggests!
Devil's Punchbowl Trail is a 10-mile round-trip trek with 2,190 feet of elevation gain. It's a steep hike with plenty of switchbacks, but it can be done slowly and steadily by beginners. It's a good choice for newbie backpackers wanting to up their elevation endurance on a shorter trek.
An excursion to the Devil's Punchbowl is a journey into the best landscapes the Siskiyou Mountains have to offer. It offers breathtaking vistas of two glacial lakes surrounded by mountain peaks and pristine wilderness.
Keep in mind that this hiking path is located in the Siskiyou Wilderness region of the Klamath National Forest, but the area is managed by Six Rivers National Forest.
Best Intermediate Backpacking Trips in California
1. Half Dome, Yosemite National Park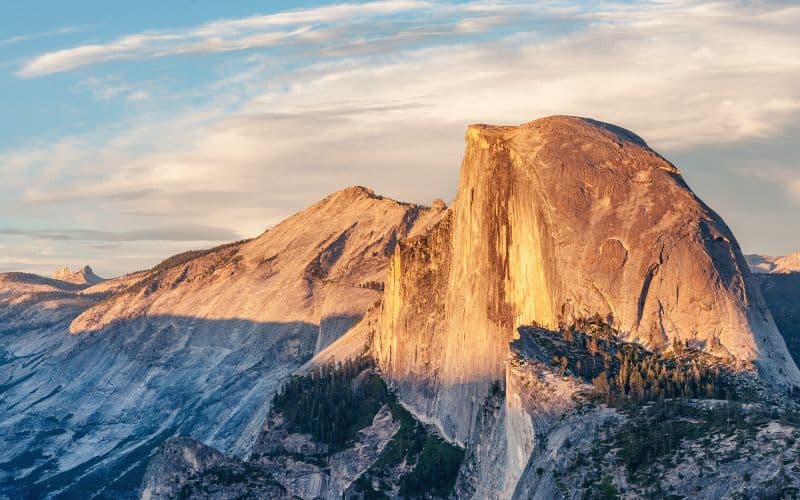 Length: 16 miles
Type: Out-and-Back
Half Dome is an iconic granite rock formation standing almost 5,000 feet over California's Yosemite Valley. The Half Dome hike is considered by many as the most challenging, yet most rewarding adventure in Yosemite NP. The epic views of Vernal and Nevada Falls, Liberty Cap, Yosemite Valley, and the High Sierra make this one of the best backpacking trips in CA.
The Half Dome Trail is a 16-mile hike with 4,800 feet of elevation gain. It's steep, strenuous, and not for the faint of heart. The last 400 feet to Half Dome's summit are ascended by using a series of cables. We recommend bringing gloves to get a good grip. The cables are taken down during the winter for safety reasons, so plan accordingly if you want to hike to the summit.
Overnight trips require a wilderness permit in addition to the permit for hiking to the top of Half Dome.
2. Trans-Catalina Trail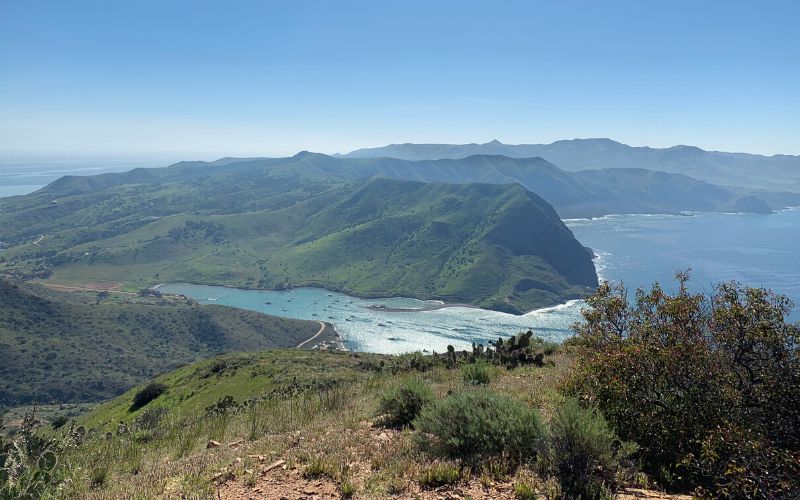 Type: Point to Point
Length: 38.5 miles
Located 23 miles off the coast of Southern California, Catalina is the southernmost island on the Channel Islands of California archipelago. Catalina Island is a rocky island that's only about 22 miles long and eight miles across at its widest point. It's a popular destination for day-trippers from the mainland wanting to visit the charming beachfront towns of Avalon or Two Harbors.
The Trans-Catalina Trail is a 38.5-mile rugged trek across the length of the island with jaw-dropping views. It starts at the trailhead in Avalon and ends at Two Harbors on the western side. Along the way, you'll encounter panoramic views of the Pacific Ocean, catch a glimpse of the local bison, and experience the Channel Islands' utterly unique environment.
One of the best parts of this entire trip is spending the night at the beachside campgrounds, where you can fall asleep to the sounds of the waves crashing ashore. This is a great journey for thru-hikers wanting to sleep in a campground with amenities after a long day of hiking.
Note that Catalina Island Conservancy permits are required to hike on the island.
3. Mammoth Crest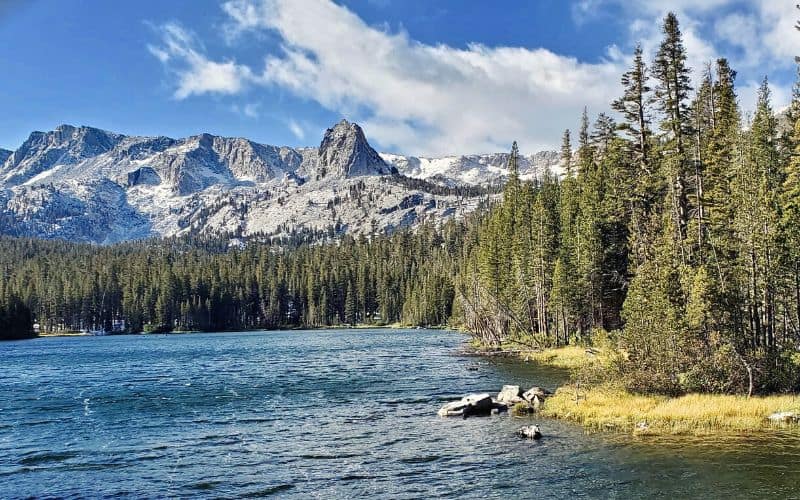 Length: 14.5 miles
Type: Out-and-Back
Ansel Adams Wilderness covers 232,000 pristine acres with alpine lakes, granite peaks, and glacial-carved gorges in California's Sierra Nevada. This spectacular protected wilderness borders Yosemite National Park and features elevations ranging from 3,500 feet to 13,157 feet.
The Mammoth Crest Trail is a brilliant adventure into the breathtaking landscapes of the Lakes Basin, the High Sierra, and the surrounding area.
It begins at the Lake George Trailhead on the northern side of the Lake George parking area. From there, the path quickly ascends several switchbacks passing by the beautiful Crystal Lake. Once the path reaches the treeline, it follows the ridgeline along the Mammoth Crest escarpment, then continues to the scenic Deer Lakes and Duck Pass.
Keep in mind that wilderness permits are required year-round for any overnight stays in Ansel Adams.
4. Mattole to Black Sands Beach, Lost Coast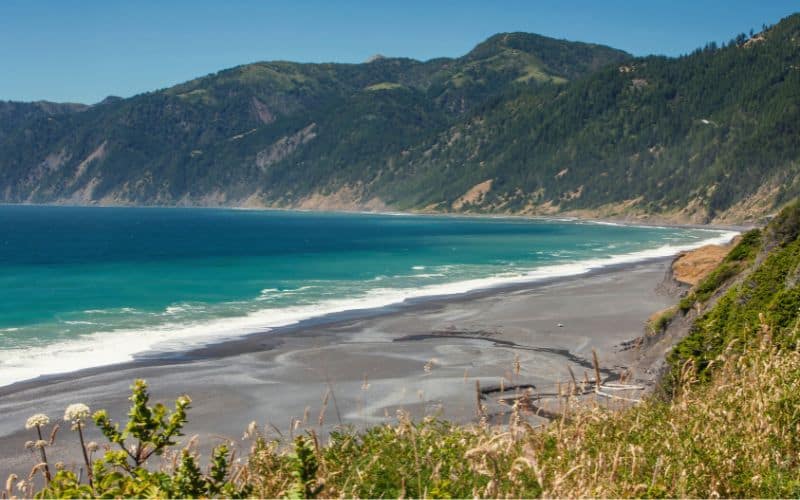 Length: 25 miles
Type: Point to point
The jaw-dropping Lost Coast Trail is the perfect backpacking trip for beach lovers! It winds along the King Range National Conservation Area's coastal wilderness, situated about 60 miles south of Eureka.
This hike takes you from Northern California's famed redwood forests to awe-inspiring vistas of the Pacific Ocean. From elephant seals to eagles, the wildlife viewing opportunities here are some of the best in the Golden State.
The Mattole Beach to Black Sands Beach segment is the 25-mile-long northern section of the Lost Coast Trail. The hike is mostly level along the beach with some sections of boulders, tide pools, streams, and bluffs.
Some areas may be impassable during high tide when the waves cover the beach completely. So check the tide chart and time your hike to avoid getting stuck!
Permits are required to camp overnight in the wilderness and state park.
5. Desolation Wilderness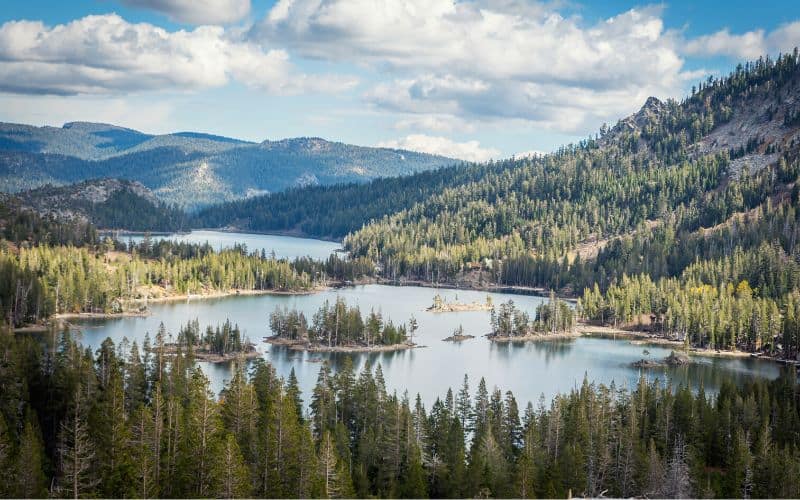 Length: 12.8 miles
Type: Out-and-Back
Desolation Wilderness encompasses 63,960 beautiful acres of alpine forest, granite peaks, and glacially-formed valleys and lakes southwest of Lake Tahoe.
There are multiple backpacking routes at Desolation, but the Echo Lakes to Lake Aloha Trail is one of the most scenic. This trek follows the iconic Pacific Crest National Scenic Trail (PCT) into the heart of Desolation Wilderness for stunning vistas of both Echo Lakes.
This is a popular hike, so be prepared to encounter other hikers along the way. Take the water taxi across the Echo lakes for a fun boat ride that'll shave a few miles off your hike. Permits are required for backcountry camping here.
6. Tahoe Rim Trail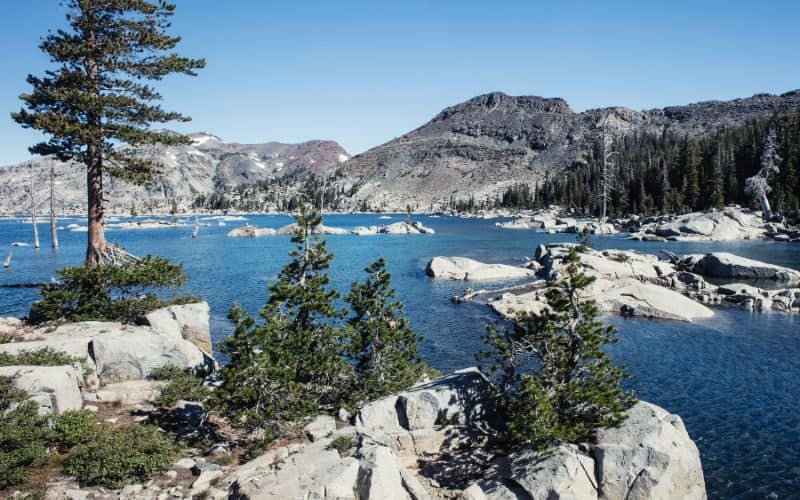 Type: Loop
Length: 165 miles
Tahoe Rim Trail is an epic long-distance trek around the largest alpine lake in North America. Lake Tahoe has 122,000 acres of gorgeous blue and turquoise water surrounded by the Sierra Nevada's snowcapped peaks and forest.
This loop around Lake Tahoe is a classic Golden State adventure and a must-visit for any seasoned backpacker. The TRT has eight sections totaling 165 miles with 24,400 feet of elevation gain. It typically takes about 10 to 15 days to complete the entire trip, and most hikers will stop to resupply in Tahoe City.
The only area you'll need a permit to hike and camp in along this path is Desolation Wilderness.
Best Challenging Backpacking Trips in California
1. John Muir Trail, Yosemite NP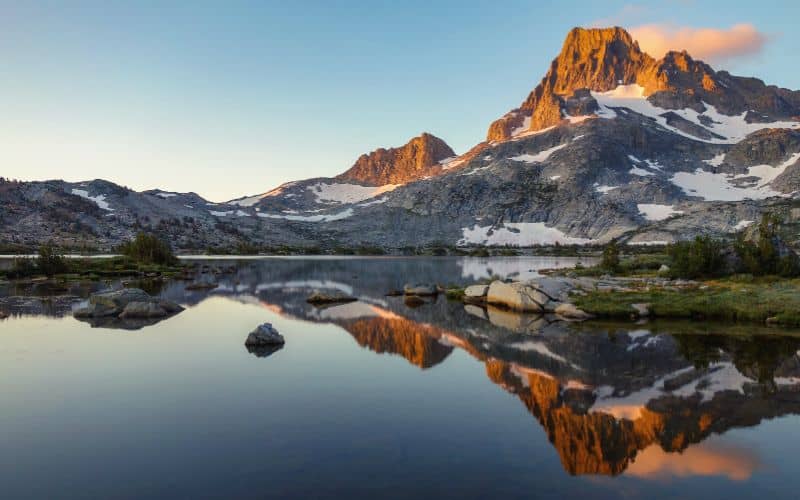 Type: Point to Point
Length: 211 miles
The world-famous John Muir Trail (JMT) is a 211-mile path that overlaps with one of the best hikes in California, the Pacific Crest National Scenic Trail. This long-distance trek stretches across the remote wilderness between Yosemite Valley and Mammoth Lakes, and leads all the way to Mount Whitney.
The hike traverses the majestic Sierra Nevada mountains via Yosemite National Park, John Muir Wilderness, Ansel Adams Wilderness, and Sequoia and Kings Canyon National Parks. This pristine area is considered by many as the most scenic mountain landscape in the country.
The John Muir thru-hike typically takes hikers about 10 to 14 days to complete. There are decent re-supply shops along the way at Tuolumne Meadows and Kearsarge Pass where you can get food and other supplies.
Wilderness permits and bear canisters are required for this hike.
2. Little Five & Big Five Lakes Loop, Sequoia & Kings Canyon National Park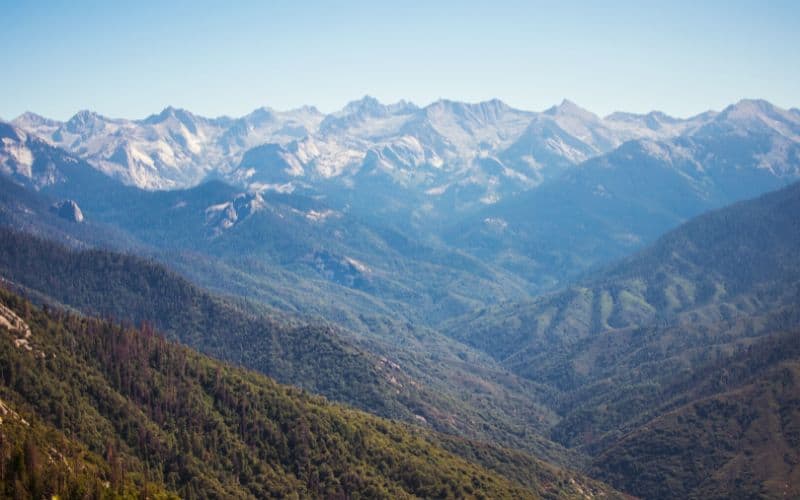 Length: 30 miles
Type: Loop
Located about 80 miles east of Fresno, Sequoia National Park is an adventure wonderland on the southern end of the Sierra Nevada. Not only is it home to the world's tallest trees, but it also has mountains, canyons, and caverns just begging to be explored.
The Mineral King Valley area of this national park is an incredible place for thru-hiking. The Little Five and Big Five Lakes Loop is a strenuous 30-mile trek with 10,000 feet of elevation gain and loss. It typically takes hikers three to five days to complete.
The route starts at the Sawtooth Pass Trailhead and offers vistas of several of the area's main attractions like the Great Western Divide, Pinto Lake, Little and Big Five Lakes, Kaweah Range, Sawtooth Peak, and Columbine Lake.
You'll need to get a permit to stay at the backcountry campsites here.
3. Mount Whitney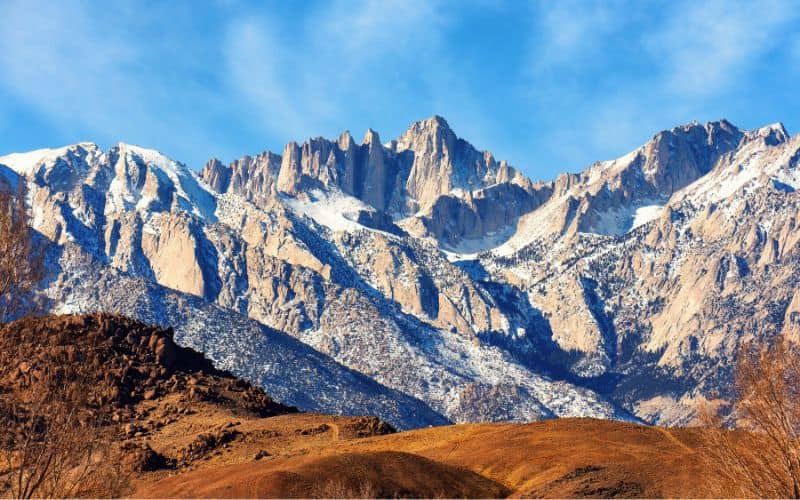 Length: 22 miles
Type: Out-and-Back
At 14,505 feet above sea level, Mount Whitney is the tallest mountain in the Sierra Nevada and the lower 48 states. Mt. Whitney is perched on the boundary between Sequoia National Park and Inyo National Forest.
The Mount Whitney Trail takes you on a journey through John Muir Wilderness to reach the most climbed mountain peak in the Sierra Nevada. This challenging hike traverses rocky switchbacks, sheer cliff drop-offs, and tumbling waterfalls before arriving at the summit of Mt. Whitney.
4. Pacific Crest Trail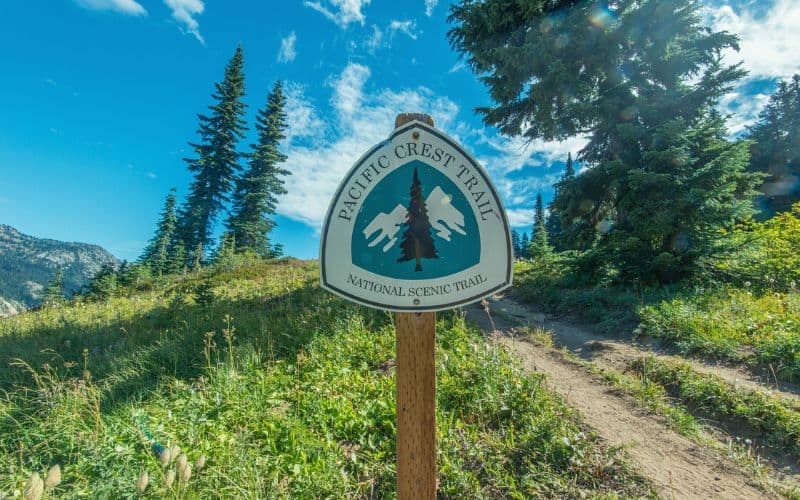 Length: 1,691 miles
Type: Point to Point
The most famous and challenging backpacking route on this list is the Pacific Crest National Scenic Trail. More commonly known as the Pacific Crest Trail or PCT, it's a 2,650-mile-long route across Washington, Oregon, and California.
With 1,691 miles of the trail, the Golden State boasts the longest segment of the PCT. It begins in Campo near the Mexican border, traversing deserts, the Sierra Nevada, the Cascades, and the Big Bend before reaching the Oregon state line.
Even if you aren't able to hike the entire route, there are many incredible sections to explore along its length.
Happy Californian Backpacking!
Considered by many as one of the best backpacking trip destinations in the country, California is a backpacker paradise!
From strolling along the Lost Coast's sandy beaches to scrambling up Mt. Whitney's snowy summit or over the dunes in Death Valley, the Golden State has a variety of amazing backpacking trips for every level of hiker.
Now, it's over to you. All you need to do is grab yourself a national parks and national forest adventure pass, pack your things, and get that next backpacking trip underway!
What are your favorite backpacking trips in California? Leave us a comment below with your top recommendations. If you enjoyed this article, please consider sharing it with your backpacking buddies.